Hey, buddies! As we mentioned at the end of our huge Scoutmaster Season updates yesterday, we're back with a ton of new information regarding the next BLits major project, Jock Studio! Make sure and read the full post, starting with an awesome preview of the game's title screen animation – and be sure to turn the volume up to hear an update on our new opening theme, composed by special guest artist Goomin Nam, composer of tracks for Ragnarok Online, DJMax and more!
Please note visuals and audio are subject to change prior to launch.
Pretty awesome, right? You'll be able to see this sequence and hear the full instrumental when we launch a playable demo of the prologue arc alongside our Kickstarter launch – but more on that at the end! For now, check out some more previews below, starting with additional character poses including full sprites for our two new supporting cast, Matt and Jacques!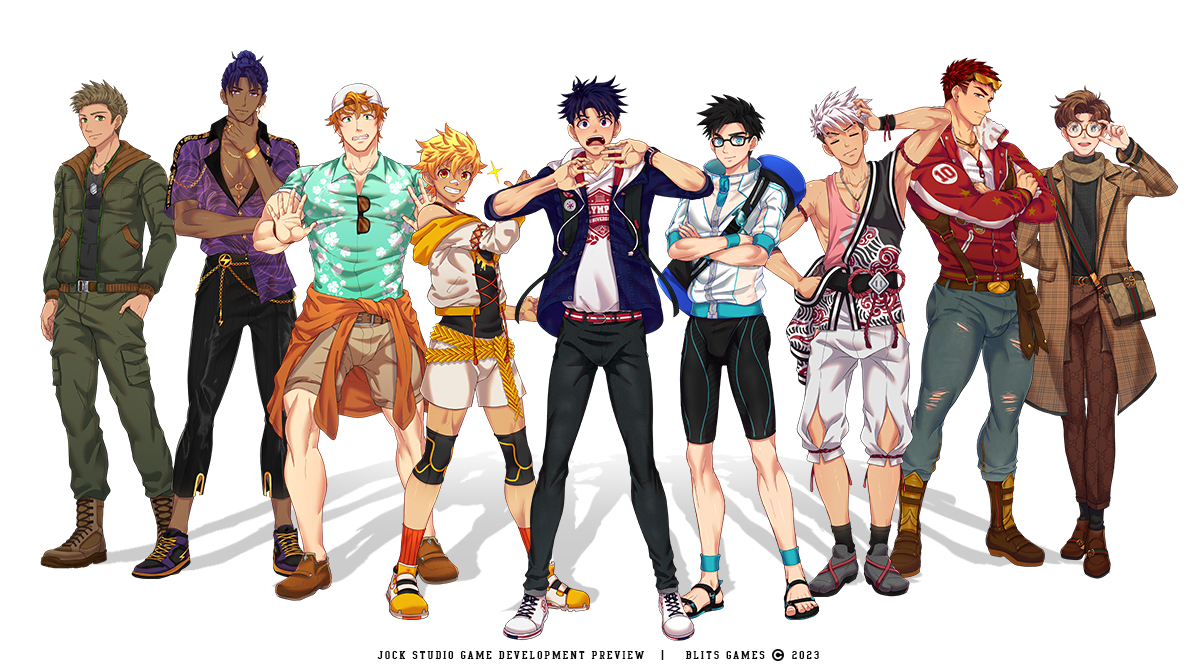 Just like in our previous titles, the characters each have multiple sprite poses to add increased variety to their expressions and show off more of their personalities!
We're also very excited to reveal our casting choices from our casting call a few months back! With the casting assistance of Jazzy Oliver, we were able to make a decision on who would be performing the new roles! These talented voice actors will be bringing the characters of the game to life, and you can see the full voice actor cast list of characters revealed so far below, as well as look forward to hearing their performances in the aforementioned demo!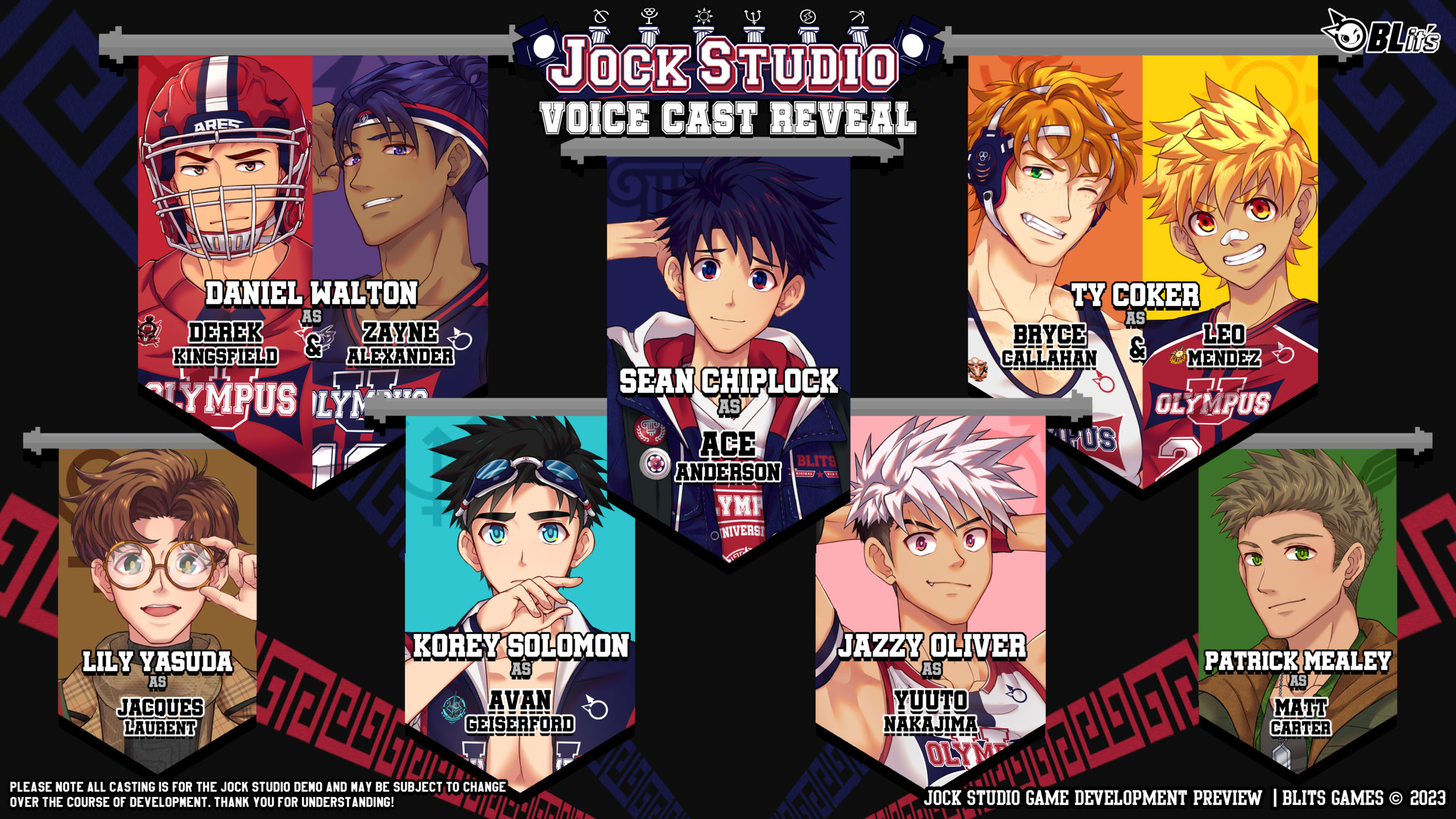 Ace Anderson – Sean Chiplock
Leo Mendez & Bryce Callahan – Ty Coker
Avan Geiserford – Korey Solomon
Yuuto Nakajima – Jazzy Oliver
Zayne Alexander & Derek Kingsfield – Daniel Walton
Matt Carter – Patrick Mealey
Jacques Laurent – Lily Yasuda
There will be more supporting character roles to be revealed in the future, as well as additional casting calls at that time, so anyone that has applied previously will automatically be considered when the time comes!
Now you've seen the characters and met the cast, but what about the art? We've already shown you some character action splash art for each of the main cast back in the full reveal, but we can't forget about the steamy scenes either! You can see a preview of everyone's first sexual scene below, which will also be included in the demo!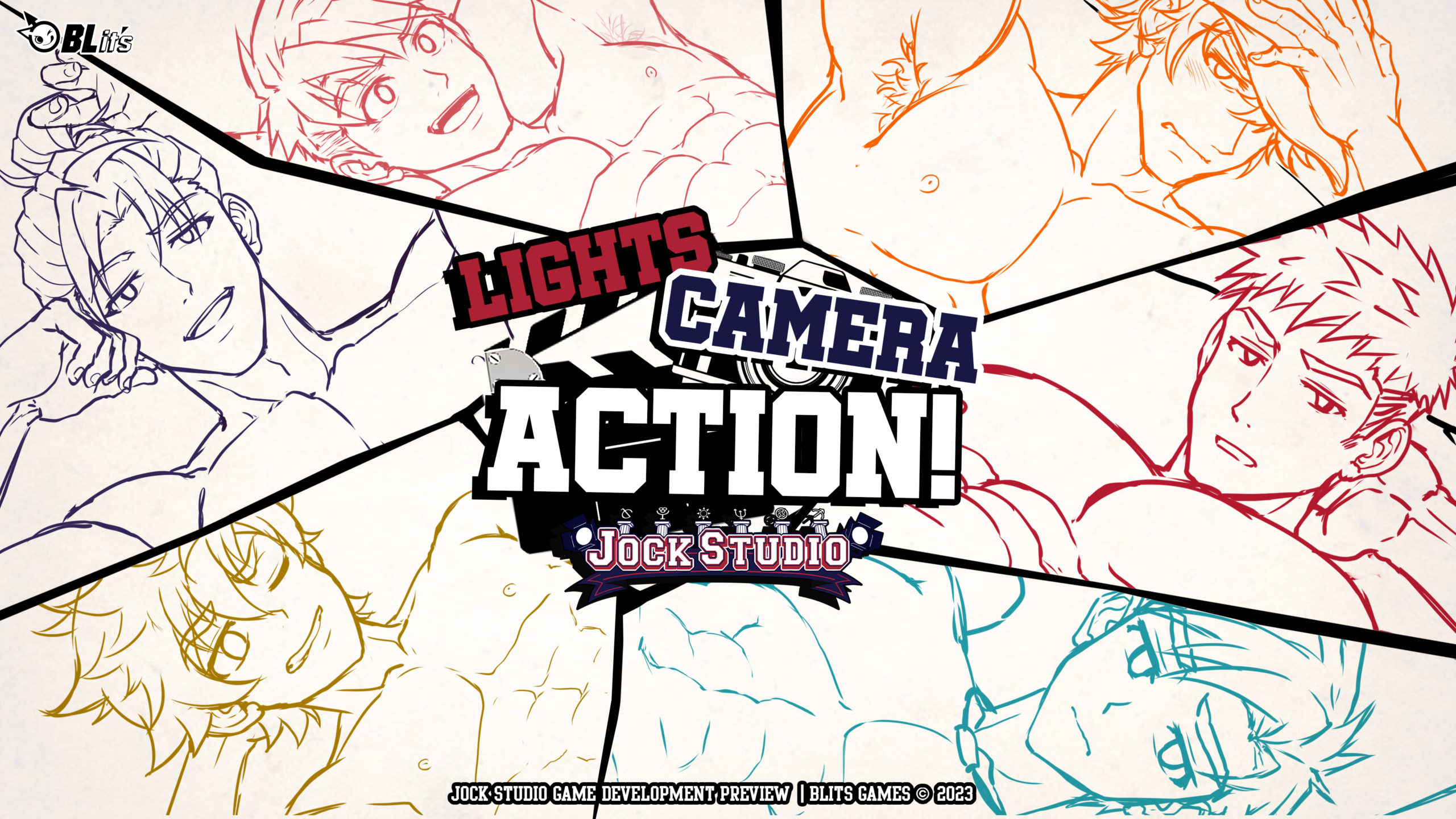 We have much more to show, but we'll save it for now, as we don't want to give away everything prior to our demo and Kickstarter release!
And speaking of that, we want to give you all an update regarding the release timeframe. Initially, we intended to launch a Kickstarter by the end of Q1 2023, but as we have now decided to include a full, playable prologue arc demo, we need a little more time to finish it, and hope to have it released along with the crowdfunding campaign in Q2 2023. Thank you for your patience and understanding, and we know you won't be disappointed by the results!
We hope that everyone enjoyed these Jock Studio sneak-peeks, and we can't wait to show you more in the near future! Stay tuned for more updates on our website, twitter, or email, and if you haven't yet, check out the new Scoutmaster Season Patch and Journal released yesterday:
https://www.blitsgames.com/major-update-scoutmaster-season-artbook-patch-v1-5-released/
That's all for now, buddies! Thank you as always for your support, and we'll see you at the next update!
~Lots of love,
BLits Games