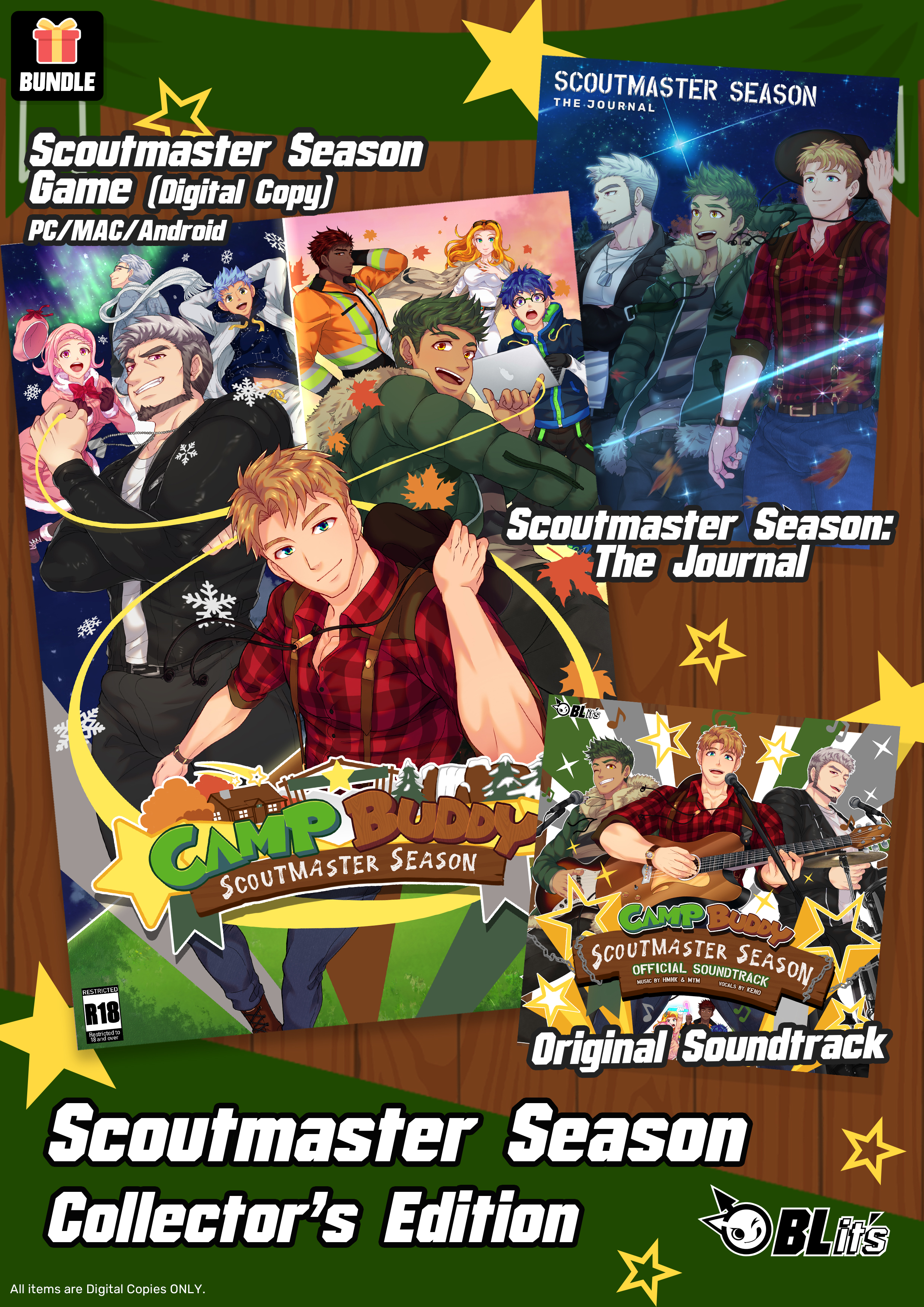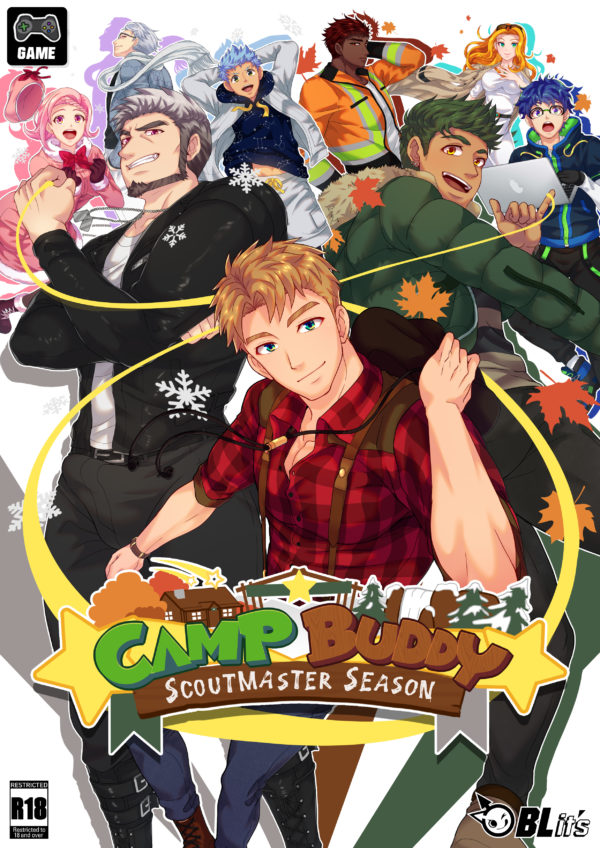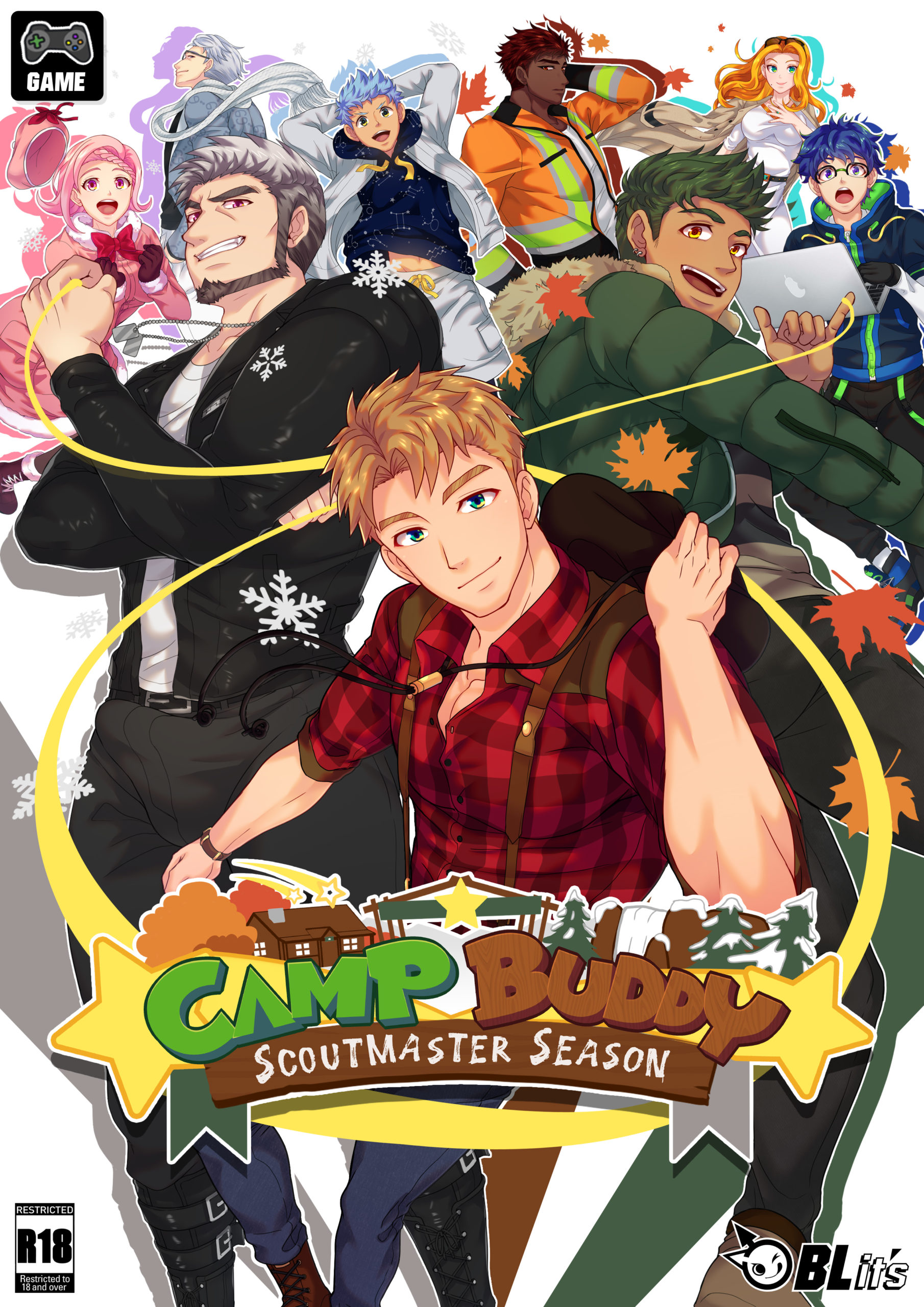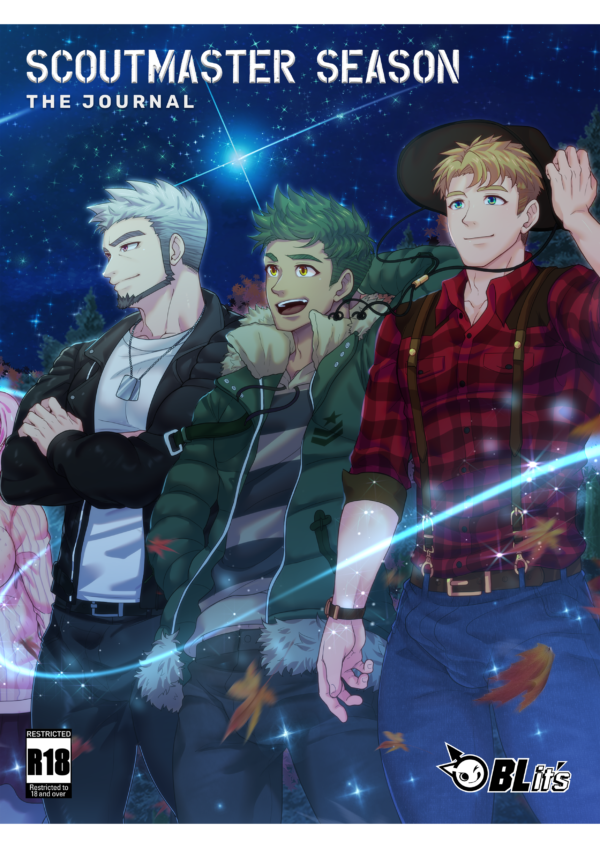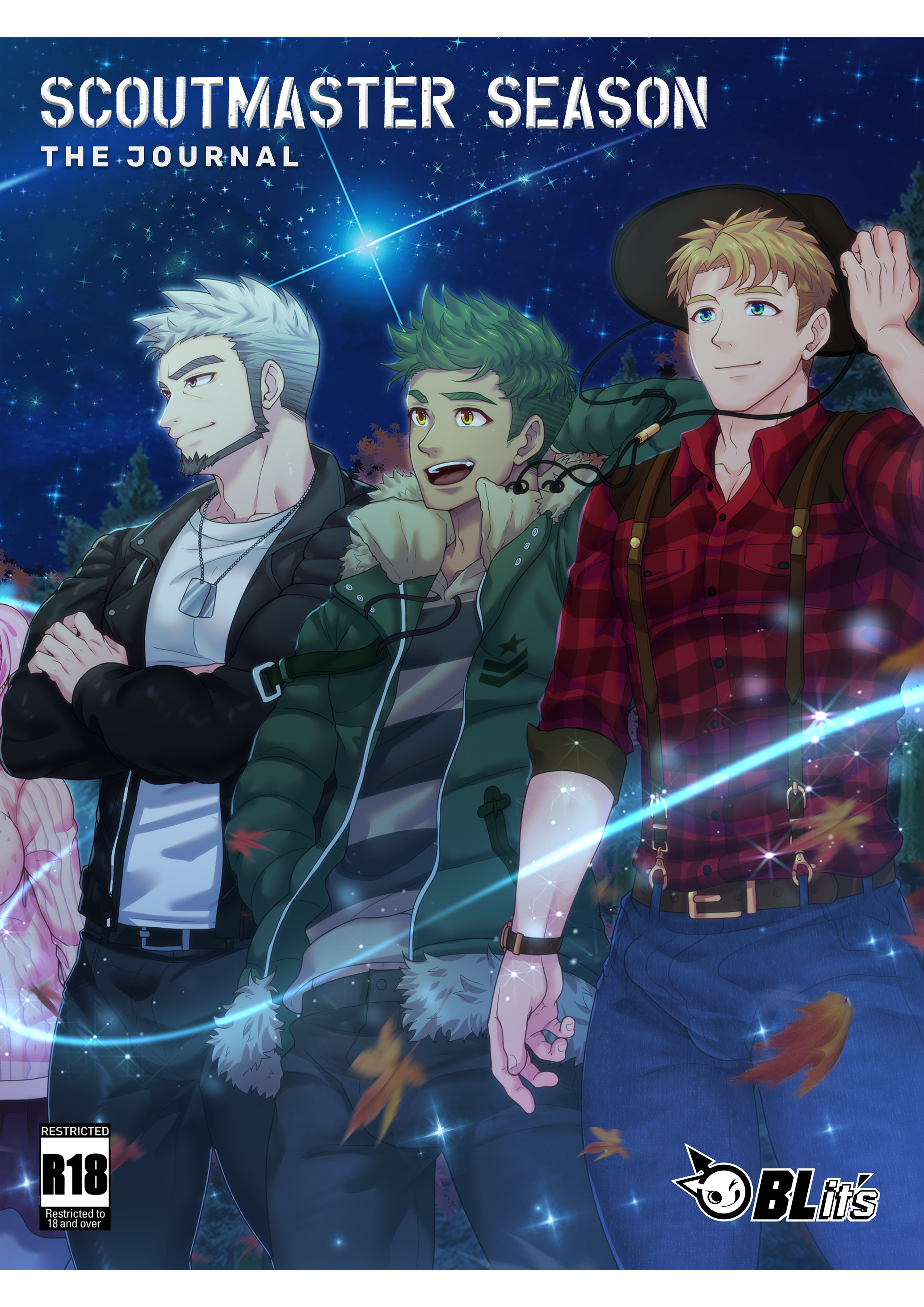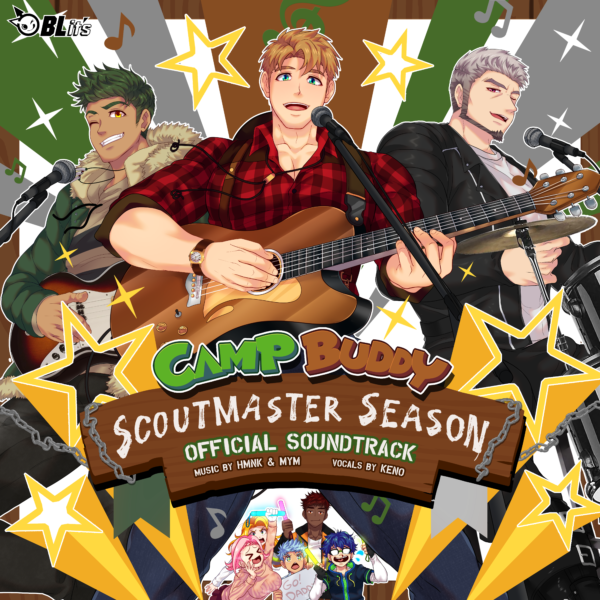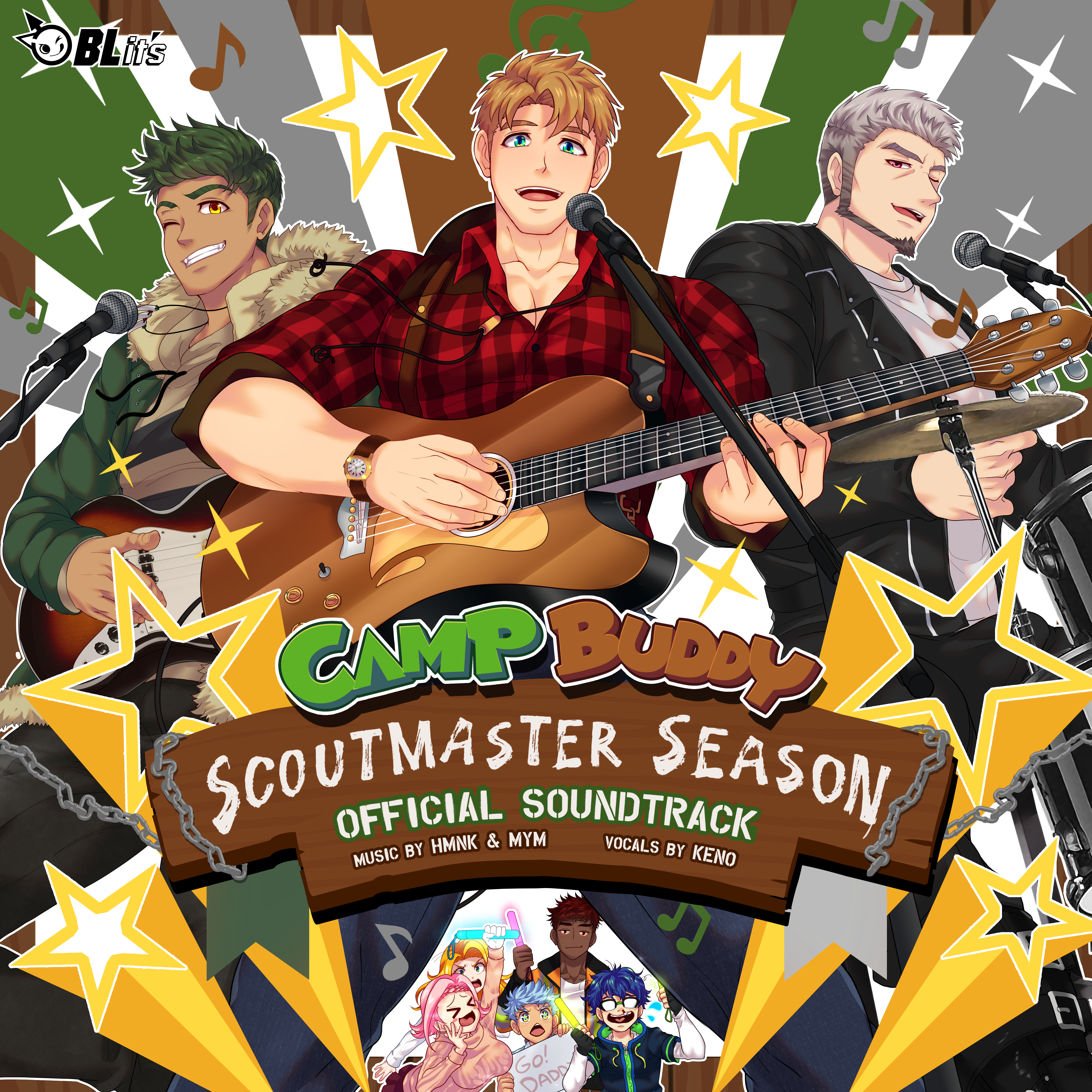 Scoutmaster Season Collector's Edition
Purchase a digital download of the visual novel, Scoutmaster Season, as well as Scoutmaster Season: The Journal and Original Soundtrack for a discounted price. Please ensure you select the correct game format before you purchase the product. Purchase and download handled by our payment provider, BMT Micro.
Camp Buddy: Scoutmaster Season is a Boys Love / Yaoi Visual Novel that features the adventures of Scoutmaster Yoshinori Nagira proceeding the events of 'Camp Buddy' during the off-season.
Yoshinori and his fellow scoutmasters undergo an exciting expansion project, reconnect with old acquaintances, and finds romance with Aiden Flynn, the camp's happy-go-lucky lead chef, or Goro Nomoru, the stern but caring camp president.
Help Yoshinori with his decisions and create a special bond with your chosen partner. Forever it's our Buddy Oath!
The bundle also includes a copy of Scoutmaster Season: The Journal, an artbook detailing the production of the game with developer insights as well as a route guide and a digital copy of the Scoutmaster Season: Original Soundtrack, with 35 original tracks!
Scoutmaster Season Description
Two Character Routes
Two Character Routes With multiple character choices and endings, you are in charge of the story! And all the choices you make in the game will affect how Yoshinori's adventure will unfold!
50+ Hours of Gameplay
Each character route has an average of 25 full hours of gameplay! And that's only for achieving one kind of ending! Unlock all endings to get the most out of the game!
100+ Illustrated Artworks
Get engaged with over 60+ unlockable CG Sets in the gallery for your own viewing pleasure! And that's not to mention the more than 60+ mini images and background art!
Original Soundtrack and Voice Acting
The game features 32 original compositions and fully-voiced cutscenes by various talented actors who help the player feel more connected to the characters and the story!
30+ Sex Scenes
Enjoy more than 30 hand-picked sex scenes throughout the game. See your favorite characters come to life in these intimate moments!
Journal-Restoration Minigame
Help Yoshinori recall events from his past alongside Hyunjin, and view special memories! You can also earn badges that you can use to unlock exciting content in the gallery!
Foreplay Minigame
Help Yoshinori and his partner heat things up before getting to the real deal! Time to get in the sexy mood~
Find the Secret Room!
Finish the game once and unlock a secret room that lets you dress up the characters, view the opening video, and listen to in-game music! (Hint: The tent looks roomy)
Scoutmaster Season: The Journal Description
Full-Spread, High Resolution Promotional Images
The Journal features several full-spread, high resolution promotional images, including a brand new cover art featuring all the characters in the game!
Detailed Character Highlights
Each of the characters gets a detailed character highlight, featuring a biography, basic information, initial design sketches and commentary, and trivia!
Full Story Guides
All of the art from the Neutral, Aiden and Goro routes of Scoutmaster Season has been organized into sections full of developer commentary and storyboarding insights!
Character Sexual Information
Each of the main characters is given a sexual trivia page, including foreplay minigame points, fetishes, and even penis sizes!
Developer Interviews
See commentary from the development team, and learn about their favorite parts of the development of the game!
Scoutmaster Season Walkthrough
Ever wanted to get that perfect ending? The guidebook has fully detailed points for each character route, in an easy to read format!
And Much More...!
Scoutmaster Season OST Description
Thirty-five mp3 files featuring the original soundtrack from the game 'Camp Buddy: Scoutmaster Season.'
Tracklist:
Buddy Oath (Full)
Brand New Day
Sunset Stroll
Ready for Tomorrow
Go With the Flow
Go With the Flow (Slow)
Old Familiar Home
Old Familiar Home (Slow)
Piko♥Piko
Here They Come
Here They Come (Fast)
Close Distance
Connection
On the Edge
On the Edge (Club Mix)
On the Edge (Exotic Mix)
Brand New Day (Winter)
Sunset Stroll (Winter)
Ready for Tomorrow (Winter)
Herácléum
Herácléum (Music Box - Part A)
Herácléum (Music Box - Part B)
Buddy Oath
Buddy Oath (Casual)
Buddy Oath (Acoustic)
Buddy Oath (Gallery)
Buddy Oath (Hotel)
Buddy Oath (Music Box)
Buddy Oath (Triste)
Buddy Oath (Elegy)
Buddy Oath (Dolente)
Buddy Oath (Lament)
Old Familiar Home (String)
Buddy Oath (Instrumental)
Sleeping Time (Scoutmaster Season)
Tracks composed by HMNK and MYM, vocals performed by Techniken/Keno.
Disclaimer
This product contains mp3 files ONLY. It is not the actual game or a physical product. All audio is owned and copyrighted by BLits Games.
Additional information
| | |
| --- | --- |
| Game Format | Digital download |
| Supported Platforms | PC, Mac, Android |
| Game Version | 1.5 |
| Windows/Linux Requirements | Windows XP and up or Linux x86/x86_64, 6.5gb of available hard drive space, at least 1gb of RAM |
| MacOS Requirements | Mac OS X 10.6 and up, 6.5gb of available hard drive space, at least 1gb of RAM |
| Android Requirements | Android 2.3 and up, 2gb of available hard drive space |
| Returns | Returns not accepted |