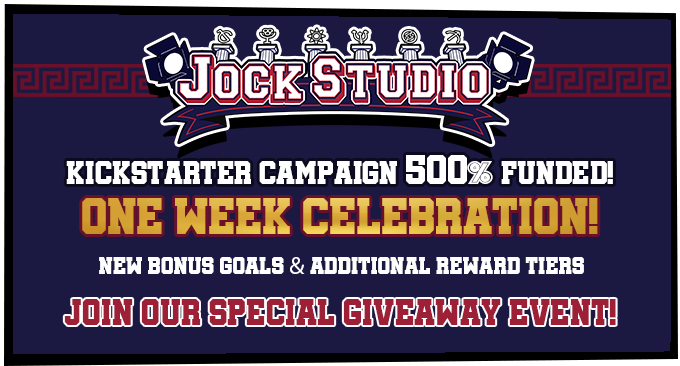 Fellow Olympians, it's already been a full week since the Jock Studio Kickstarter Campaign launched – in that short period of time, not only have we managed to reach ALL of our funding goal and stretch goals, but we've also reached FIVE (5) additional bonus goals too, with our sixth Bonus Goal almost achieved too! All of this makes the campaign over 500% funded!
If you haven't seen the campaign page yet, check it out below:
https://www.kickstarter.com/projects/blitsgames/jock-studio?ref=f0w759
That's not everything we have in store for Jock Studio, however! We've also got some new Bonus Goals for everyone to strive for now, each with new and exciting features, including some heavily requested ones. You can check them out below: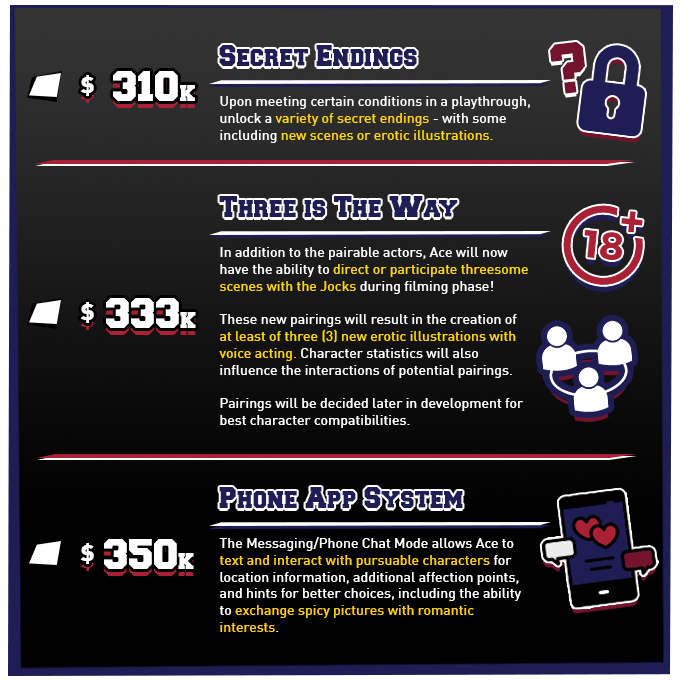 Additionally, we've also gotten plenty of requests from many of you for additional slots in the Alumni Tier, as many have wanted to upgrade into it from their initial pledge. With that in mind, we've decided to add 30 more slots to the tier, and also are offering 100 slots of a new Valedictorian Tier which will get you a copy of Jock Studio, Camp Buddy, and Scoutmaster Season (or your choice of image sets) all in one! You can see the full tier details below:

These tiers are both still limited, so make sure and grab them while you still can!
Next, as promised, we're already working to make Jock Studio better, and to do that, we're seeking additional help in the form of a Unity Developer, especially if you have experience with Android app building! If you or anyone you know has any experience with the Unity Game Engine, please send us an application at the link below:
https://www.blitsgames.com/developer-applications/
Finally, as mentioned on our launch date announcement back in June, we'll be hosting a giveaway! One of our backers was generous enough to donate all of the rewards available in the Presidents Tier for a contest, which includes: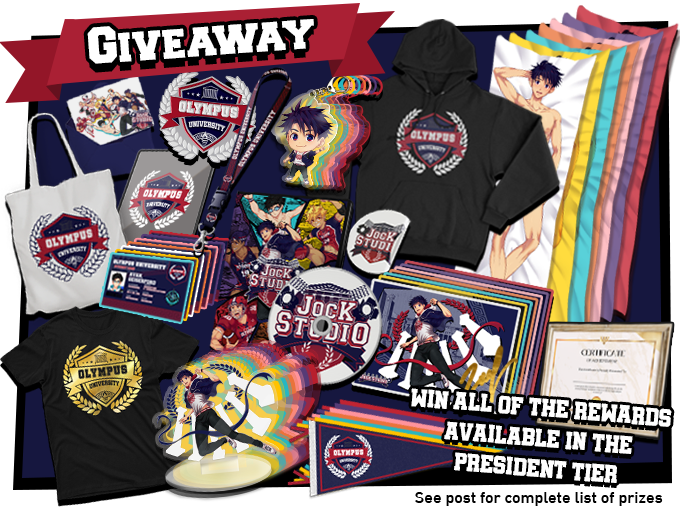 Personalized & Exclusive Signed Certificate
SEVEN (7) Body Pillow Covers
SEVEN (7) Signed Jock Studio Art Prints
SEVEN (7) Acrylic Standees
SEVEN (7) College Club Pennants
SEVEN (7) Character Keychains
SEVEN (7) Character ID Keycards
Exclusive Gold T-Shirt
Hoodie
Lanyard
Sticker Sheet
Tote Bag
Physical Copy of Jock Studio
Jock Studio Guidebook
Enamel Pin
That's a lot of rewards – and to enter this giveaway, all you have to do is sign up at the link below! Make sure you complete all entries too for an even higher chance to win!

Jock Studio Kickstarter Giveaway


That's all for now Olympians, but we'll continue to update you all throughout the campaign!
If you haven't yet, please check out the full campaign page at the link below:
https://www.kickstarter.com/projects/blitsgames/jock-studio?ref=f0w759
Please stay tuned for more news and thank you all again for your overwhelming support!
Lots of love,
~BLits Games