Happy Anniversary, buddies! This month marks the 4th Anniversary of BLits Games, which started with the launch of Mikkoukun's Patreon page back in October of 2016! We've come a long way since then, and wanted to take the month of October to celebrate! We have a bunch of fun and exciting things coming this month, so please be sure to read the post below for full details!
A Website Overhaul!
As some of you may have noticed, one of the big changes we made over the last few weeks is to overhaul our website! We've updated the design on most of the pages to give it a newer, fresher look! It should be easier for everyone to sort by whatever category they want, be it News, Products, or more! And speaking of the website overhaul, you might notice something else new as well…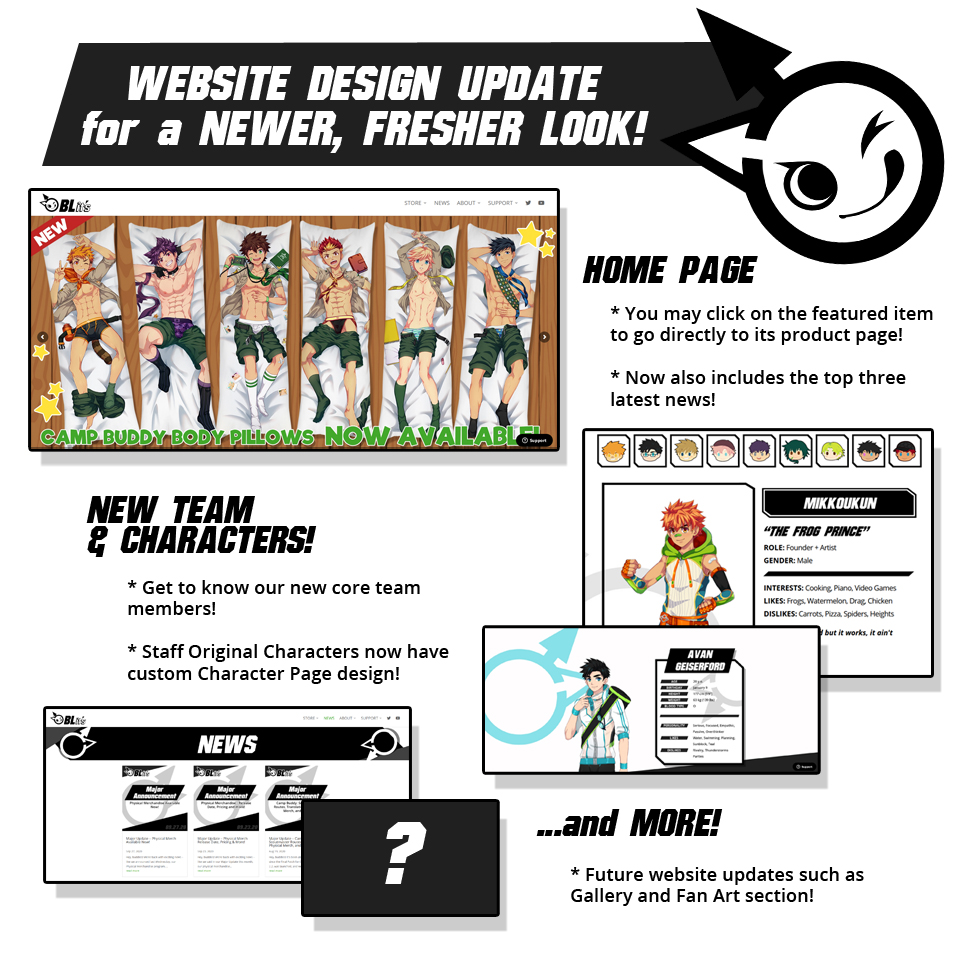 New Team Members & Staff OC Revealed!
We're excited to announce four new Staff Original Characters, belonging to our team members Magnus, Monacodingo, Materasu, and Zemyx, respectively! These characters were created by Mikkoukun and Zael, with help from each of the team members for their design preferences! You can check each of them out at our new character pages, and learn more info about them there!
The Original Characters aren't the only ones with new information, as we've also officially added all four of the above staff members to our Team page! You can check out some fun personal information about them, and see the full roster of BLits members featured now! Make sure and welcome both the team members and the new OC's, buddies!
Anniversary Sale & New Products!
We're also excited to announce that we'll be holding a sale in the middle of October, from the 9th through the 16th, for all of our digital products! We will post full details of the discounts then, but if you were considering picking up a copy of Camp Buddy, the Journal, or even just a Patreon Collection, this month is the perfect time!
Beyond our sale this month, we also plan to add new products to our store, and make them available for everyone later this month! Stay tuned for more information about these new products later in the month!
Camp Buddy: Four Seasons Art Contest!
Last but certainly not least, we'll be hosting our second ever art contest, featuring a theme of the Four Seasons for all of our Camp Buddy Characters! Since it's our fourth anniversary and the theme involves the four seasons, this contest will be launching on Sunday, October 4th, and you can expect to see full details of the rules, prizes, and more then! Start planning out your art, buddies!
Closing Note
That's all for this announcement, buddies! Make sure you stay tuned for all these exciting events, and we're excited to share even more news with you in the future! Thank you for your constant and loving support of us over the last four years, and we hope to continue providing more great content for you for years to come!
Lots of Love,
~Blits Games