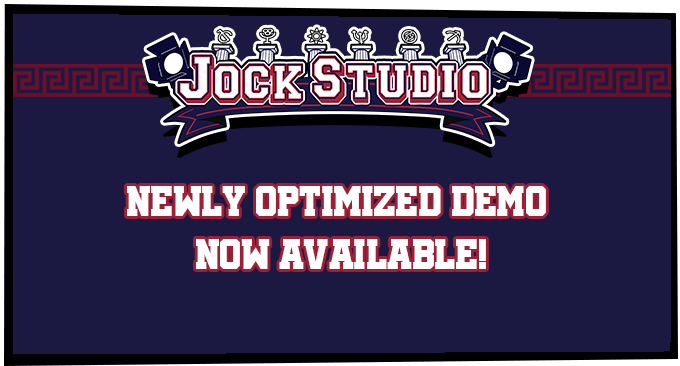 Olympians, as promised in our last update, our programming team has been hard at work optimizing the Jock Studio demo to make it more accessible and run smoother on all platforms! We are happy to announce that the newly optimized version of the demo is available to download now, at the links below!
PS – Please note: There is no additional new content in this demo. However, if you had runtime issues while playing the game before, they should be resolved as of this build! Additionally, the Steam version will be updated at a later date. Thank you for understanding!
All of the changes to this build have been handled on the back end of the game, and the overall weight of the game has been reduced, making the demo more stable and accessible by a larger number of devices! We hope that anyone who wasn't able to access the demo before is able to properly enjoy it now! That's all for this update!
Jock Studio & Unity
We'd also like to take a moment to address the Unity situation, as many people have been asking us about it – as we stated on our Kickstarter, Jock Studio has indeed been developed using Unity for its demo and base framework. The current news with Unity is disheartening, but we are hoping that there is a change of pace for their plans and are assessing the situation before moving forward and changing game engines.
Unity is most ideal for us in terms of development, but should the situation not be favorable, we will consider switching development platforms once the situation with Unity has become fully realized.  Should this change anything in terms of our release timeframe, we will let everyone know – thank you for your understanding!
Closing Note
On a much more positive note, our team plans to launch another development update next Friday (9/29) with more previews, details about some of our new mechanics, and more, so please stay tuned and enjoy the newly optimized Demo in the meantime, Olympians!
Lots of love,
~BLits Games