Welcome, freshmen! The long wait is over, and the day is finally here! 
The Jock Studio Kickstarter Campaign and Free Demo have launched. Check them out now at the link below: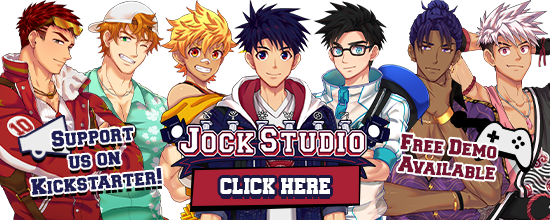 Kickstarter Campaign
After much planning and discussion with the team and considering the recent fan survey results, we have crafted a highly customized campaign for Jock Studio to launch on Kickstarter!
We have all kinds of new and exciting information on the page, including the game, story, characters, artwork, voice snippets, music samples, and more!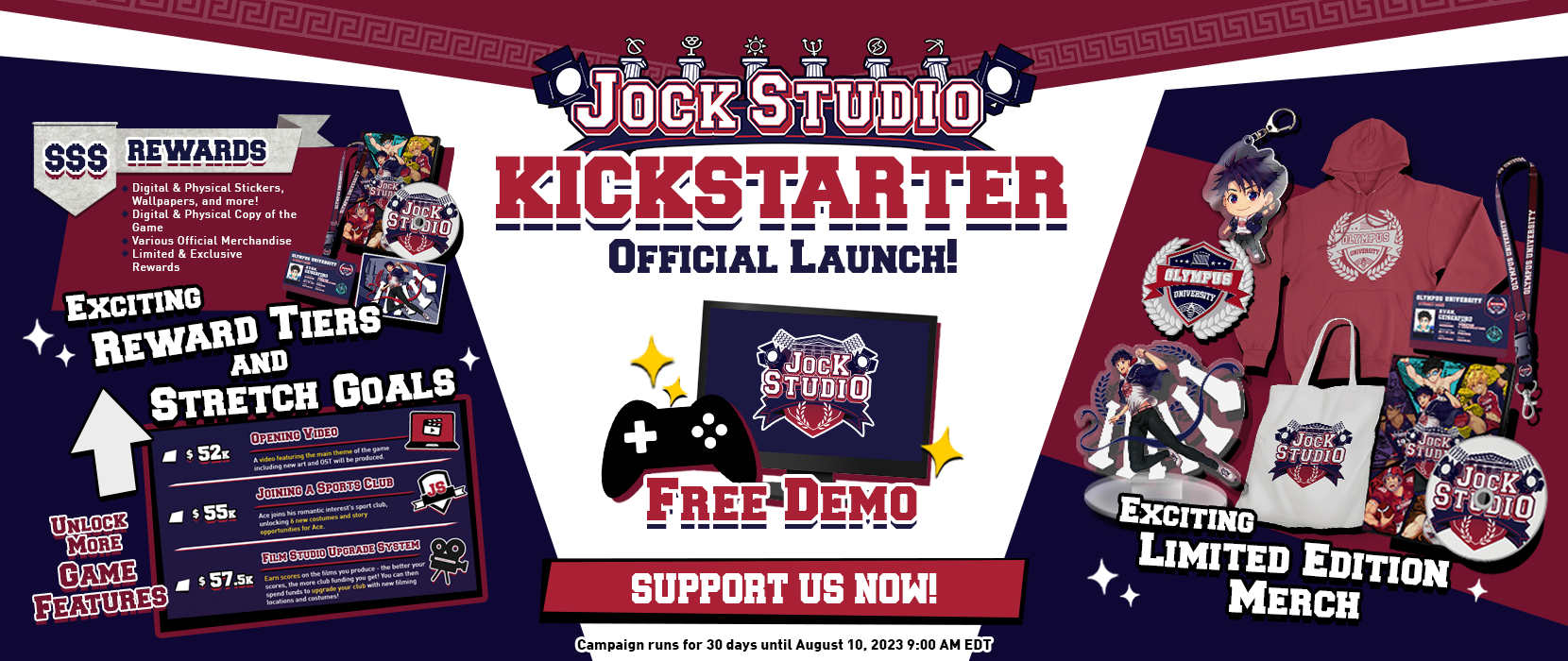 On our Kickstarter campaign, we've created a wide variety of reward tiers with exclusive benefits and limited-edition merchandise that you can select depending on your pledge amount and reward preferences! You can find sample mock-ups and check out all the planned Jock Studio merch items!
We've also included a milestone campaign for stretch goals based on the total pledges collected, allowing the dev team to gain more resources to make Jock Studio a bigger game, as we envisioned! We hope to reach these goals with you!
Please note that all monetary values of the funding goal and stretch goals do not fully represent the project cost and expenses.
Click the link below to visit the Kickstarter now, and be sure to pledge between today and when the campaign ends, 30 days from now on August 10th, 2023, at 9:00 AM EDT!

For questions, inquiries, and other concerns about our campaign, visit our Kickstarter FAQs, Updates, and Comments tab!
Jock Studio Free Demo
We're also happy to announce the complete release of the Jock Studio Demo in celebration of our Kickstarter Campaign launch!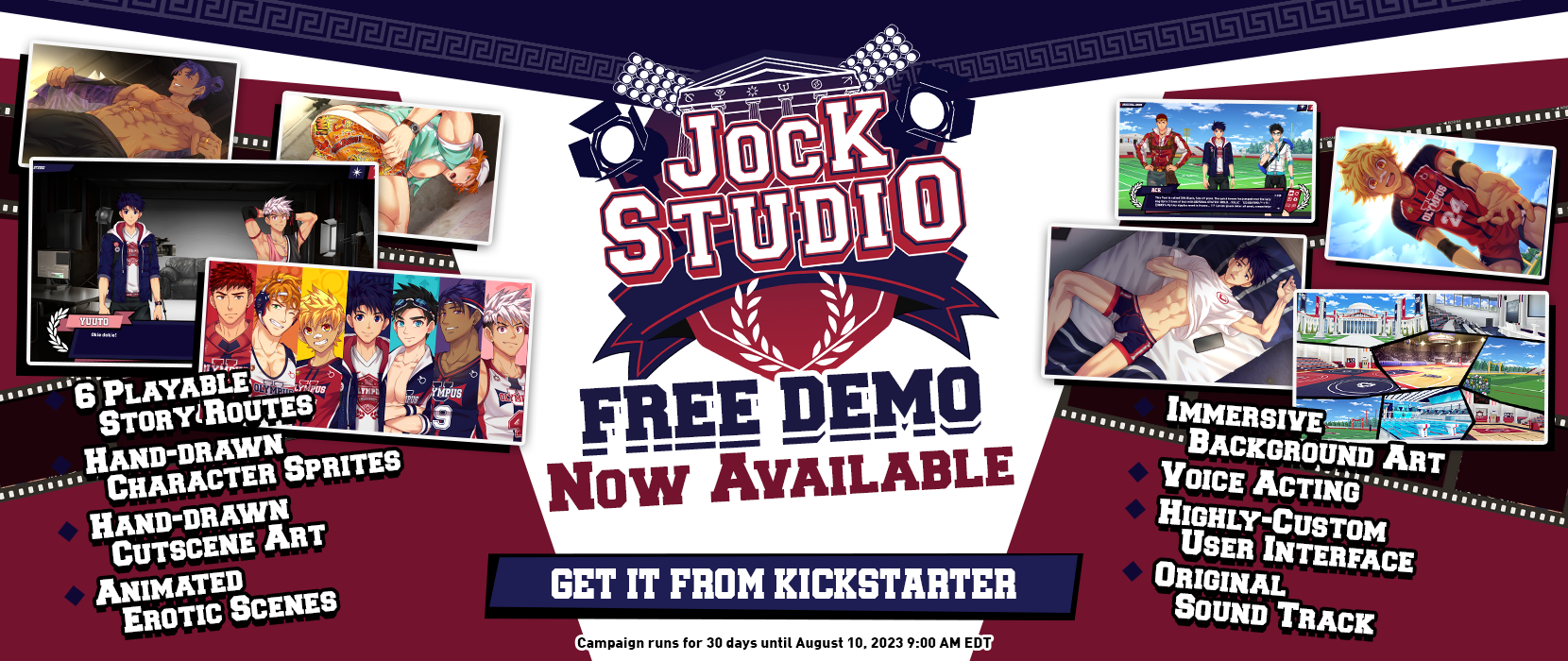 As previously announced, this demo contains a fully-playable prologue of the game introducing the premise, story, characters, and settings of Jock Studio! The demo features the following:
– Six unique playable character routes 
– Captivating storyline and character designs
– Expressive hand-drawn character sprites
– Highly custom, hand-drawn cutscene art
– Fully animated, uncensored erotic scenes
– Immersive, custom background art
– Fully-voiced cutscenes and partial voice acting
– Custom-designed user interface powered by Unity and NaniNovel
– Original soundtrack feat. Goomin Nam, HMNK, OtoKin & AdlibPiano
Please note that this does not represent the entire gameplay and is only meant to showcase the project concept. The full game will have a playable day and time schedule, an interactable campus map, an affection point system, mini-games, and more!
You can download the demo, available for Steam, PC, and Mac, directly from our Kickstarter Page – with our quick link below:

For questions related to the latest Jock Studio Demo, you may contact us via email: [email protected] or post on our Kickstarter comments section and we'll respond to you as soon as we can!
You may also report a bug on the latest Jock Studio Demo using this link: https://www.blitsgames.com/bugreport/
Closing Note
We hope everyone enjoys the content our team has been working so hard for over the last eight months since we first announced the project! We wanted the demo to be free for all our fans, and we hope you can support us in the Kickstarter campaign through your pledges so that our team can develop this project to the best version it can be! As always, we appreciate everyone's patience, support, and understanding throughout the years, and we look forward to providing nothing but our best efforts to deliver a quality BL game for all of us to enjoy!
Don't forget to subscribe to our website newsletter, follow our social media accounts, or join our Discord community for more updates to come!
We're thrilled for everyone to try the demo, so let us know on Twitter what you liked in the demo with the hashtag #JockStudio!
Lots of love,
~BLits Games