Happy New Year, buddies! We're back with our first update of the year, featuring a little bit of news on Jock Studio! We're not ready to launch our Kickstarter just yet, but we still plan to do so within Q1 of 2023! In the meantime, we thought we'd provide you all with a little bit of new information and updates, so please check below for the full information!
Jock Studio Recruitment
First off, we'd like to inform everyone that the recruitment phase for Jock Studio has ended! Thank you to everyone who applied for either a voice acting position, composer role, or website manager role – you should have now received an email letting you know about the position!
We're not going to announce the results just yet, however, and will save that for a future update, so please stay tuned for more! Additionally, if you didn't get a role this time, don't worry! We have more roles and positions to fill later this year, so be on the lookout for that announcement later!
New Character Reveals!
Speaking of new roles, our initial reveal hinted at them, but we're now ready to show the design sheets for some of our supporting characters of Jock Studio's cast! These characters are not pursuable routes, but fill an important role in the story!
First up, we have Matt Carter, a freshman and member of the Track Club! Matt is Ace's best friend, and the two have known each other well before heading to college – in fact, he's one reason Ace attended Olympus University in the first place! Matt plays an important role in Ace's story, and you can expect more details about him later!
Next, we have Jacques Laurent, the founder of the campus's secretive Film Club! Jacques works with Ace on all the filming, and although he's not athletic, he has plenty of other talents and skills that will come to use in the story!
You can see both of their design details below: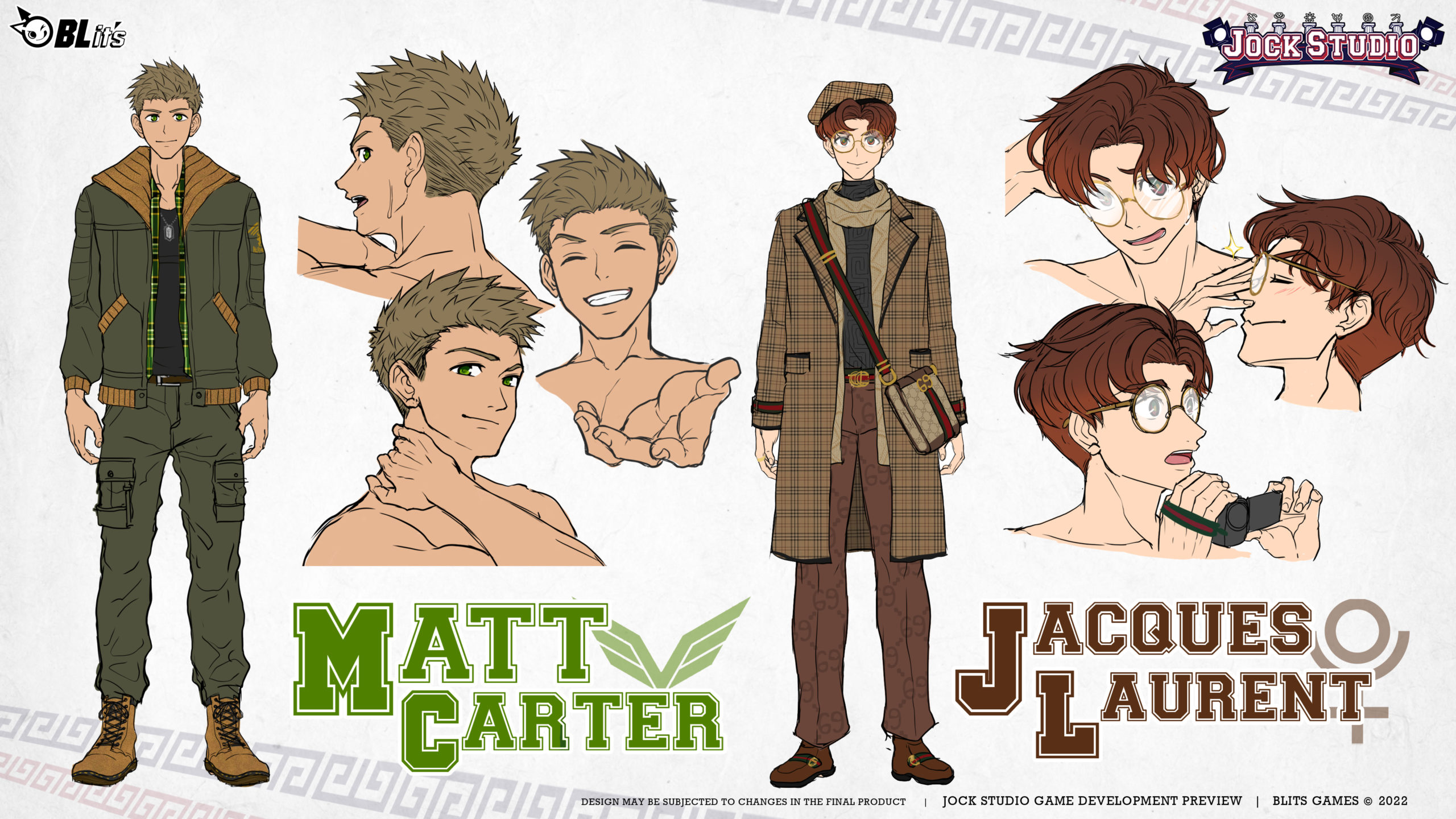 Closing Note
That's all for now, buddies, but we'll have much more information and reveals for the actual Jock Studio Kickstarter launching later this year! We'll also have news about the Scoutmaster Season final patch, and a few other surprises coming next month too, so please stay tuned for that!
Until then, Happy New Year again, buddies, and we wish you all a prosperous and happy year!
Lots of love,
~BLits Games