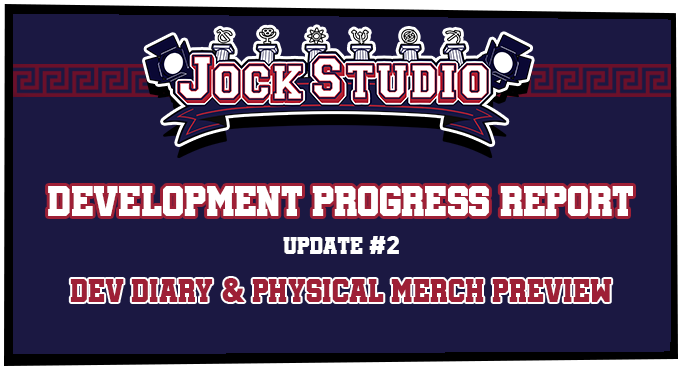 Olympians, we're back with another Jock Studio Development Update, this time featuring our second Development Diary, as well as more physical merchandise previews! The following update contains important information for all fans of Jock Studio and BLits Products, so please read the full post for complete details!
PledgeManager Update
We know that many of our Kickstarter Backers have been asking about when they would get to select their physical reward choices, as well as receiving their digital rewards for the Alumni and Valedictorian tiers. Our team has been working hard to get all of this setup with our backer support program, PledgeManager, but we ran into a few issues with their integration, and are working to get them fixed as soon as possible.
Our team has prioritized working on the physical merchandise so that our backers will be able to receive it and see the progress on it as early as possible, and we had hoped to have this program launched sooner as a step in that direction. We are doing everything we can to have it ready as quickly as possible now to fulfill the digital rewards that are owed to our backers, and as long as we don't encounter any more issues with PledgeManager, we hope to have the program launched alongside a post detailing how the system works as soon as next week, and we apologize for the delay, but thank everyone for their patience! We'll provide an update as soon as it's available!
Physical Reward Previews
Speaking of Physical Rewards, we're going to be previewing even more of our Physical Merchandise, available as Add-Ons when PledgeManager launches, or as part of your existing pledge! To start us off, on our last development update, we showed the sketch of the front sides of our Jock Studio Body Pillows – we're now happy to show the finished product, including both front and back sides!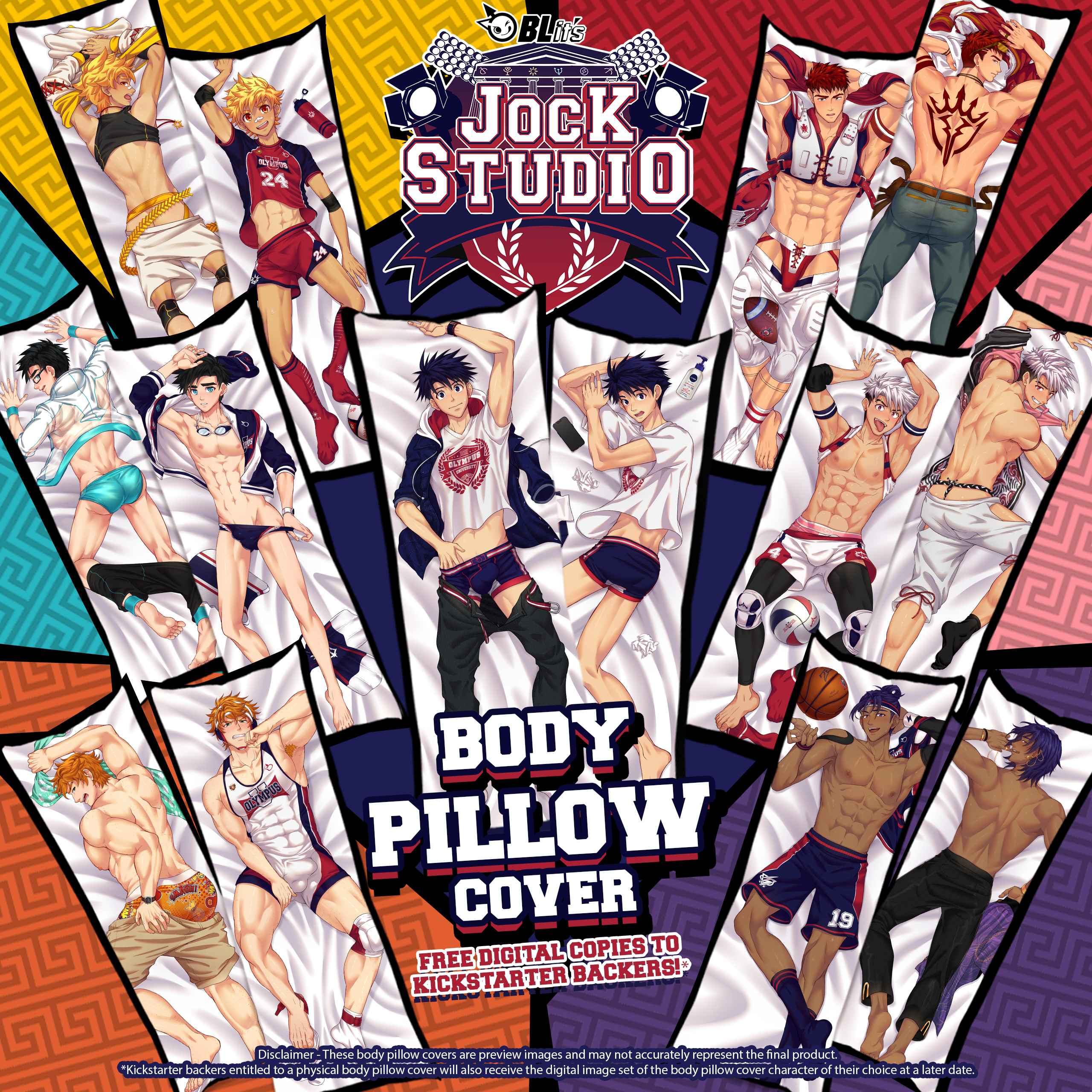 The Jocks are looking god-like in their fully finalized pillow artwork – you can have one (or more!) of these characters in your own bed, too, with multiple optional variants including Standard, Undies, or Naked!
Additionally, backers who are eligible to receive a physical body pillow will also receive the digital image sets of their chosen characters ahead of the physical release, as soon as they're produced as a bonus thank-you!
Body Pillows aren't the only way to represent the character of your choice though, we've also got previews of the finalized Art Prints and Club Pennants!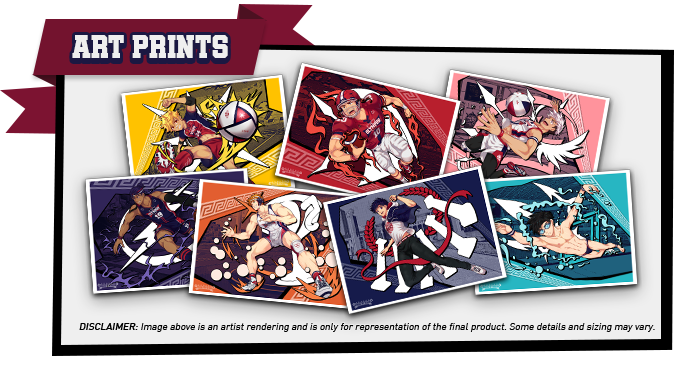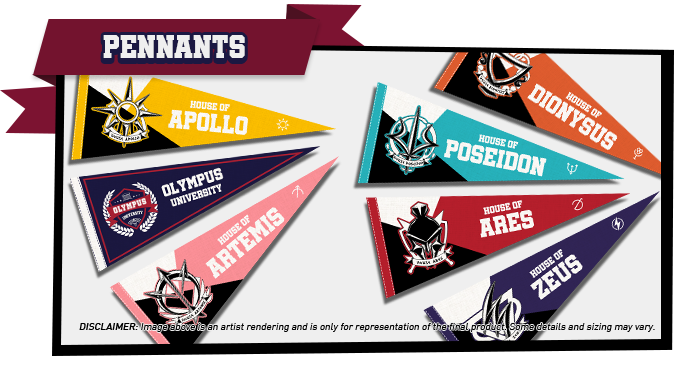 Each one of these can show off your love of the Jock (and House) of your choice, decorating your home like you're attending Olympus University too! We'll also be previewing the Keychains and Standees with their final designs in the next update!
That's all for the physical merch for now, as these designs are finished up, our team will begin working on manufacturing them and, once that is complete, work on shipments to those eligible! Expect more updates about this throughout the development of the game!
Development Diary 2 – Campus Map, Character Stats & Music Previews!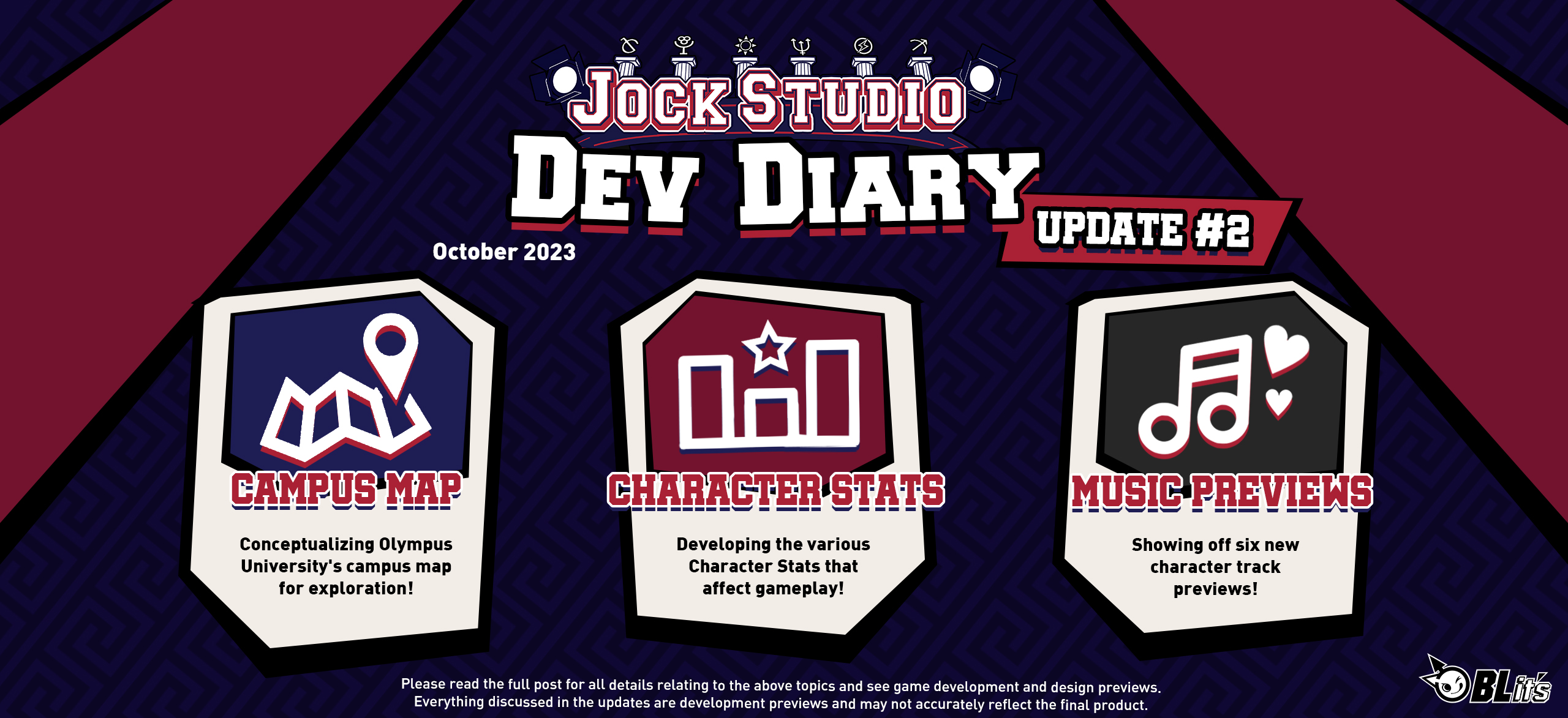 Finally, to wrap-up this update, we're back with our second Development Diary, with detailed reports on what the team has been up to this past month, and what progress has been made during the development!
Part 1 – The Campus Map
Olympus University is a large and presitigious school, and as such, needs a fitting design to truly immerse yourself into the world! With that in mind, Zael and Zemyx have been working to create the initial layout of the campus – check it out below!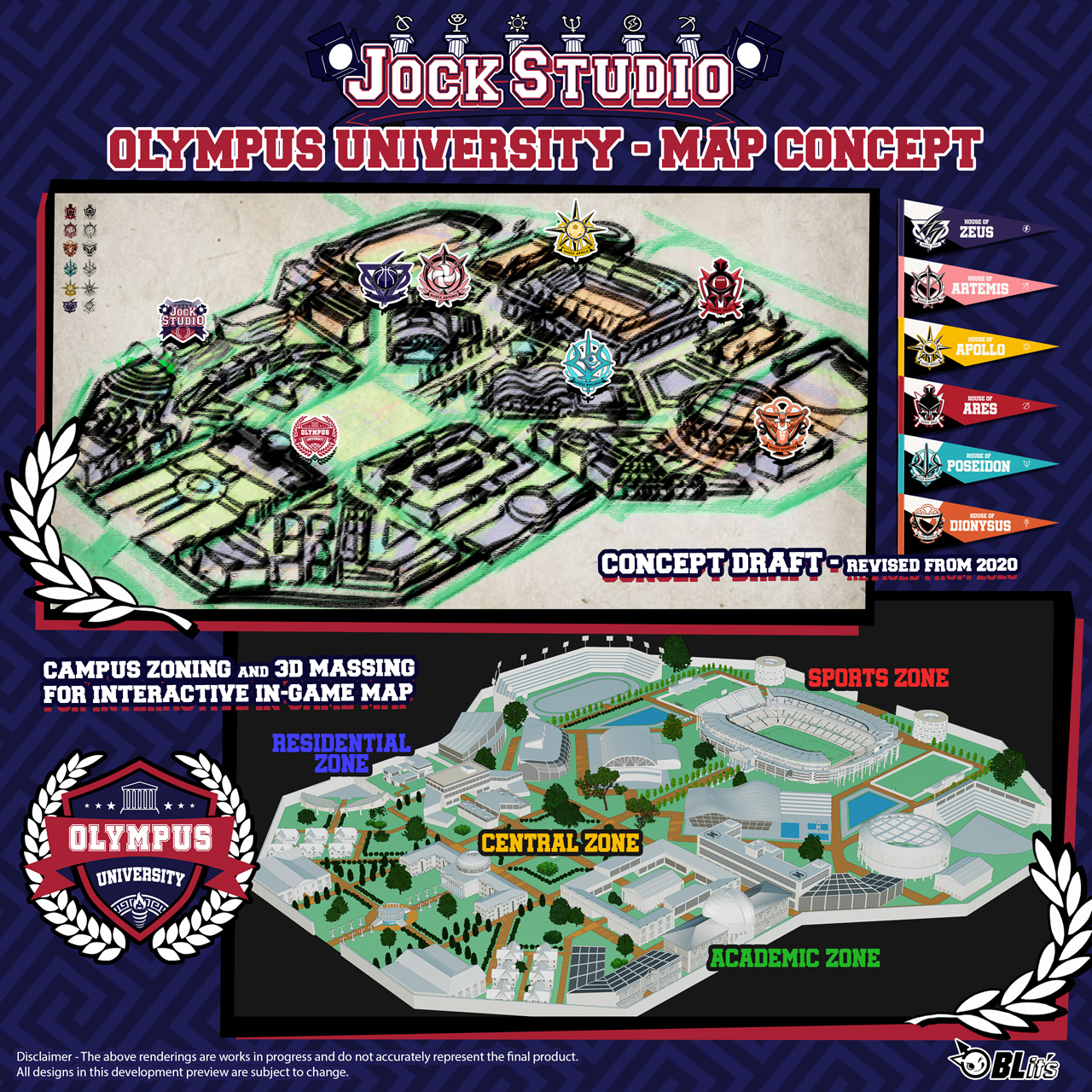 Olympus University is divided into four sections – the Central Zone, containing important hang-out areas like the University Center and shops, the Residential Zone, containing the dorms and messhall, the Academic Zone, containing the classrooms, labs and lecture halls, and finally, the Sports Zone, containing the various practice fields and stadiums for Olympus U's many sports clubs.
When playing the game, you'll get the opportunity to explore all of these areas, moving through the Campus with a great deal of freedom! Jock Studio will be all about exploration and we can guarantee that there will be plenty to see at Olympus University!
Part 2 – Character Stats
Another mechanic introduced on Kickstarter is the Character Stats – these scores affect your ability to explore Olympus (and the town surrounding it), your performance during gameplay, and especially your potential endings with your partner! Check out the various statistic categories below!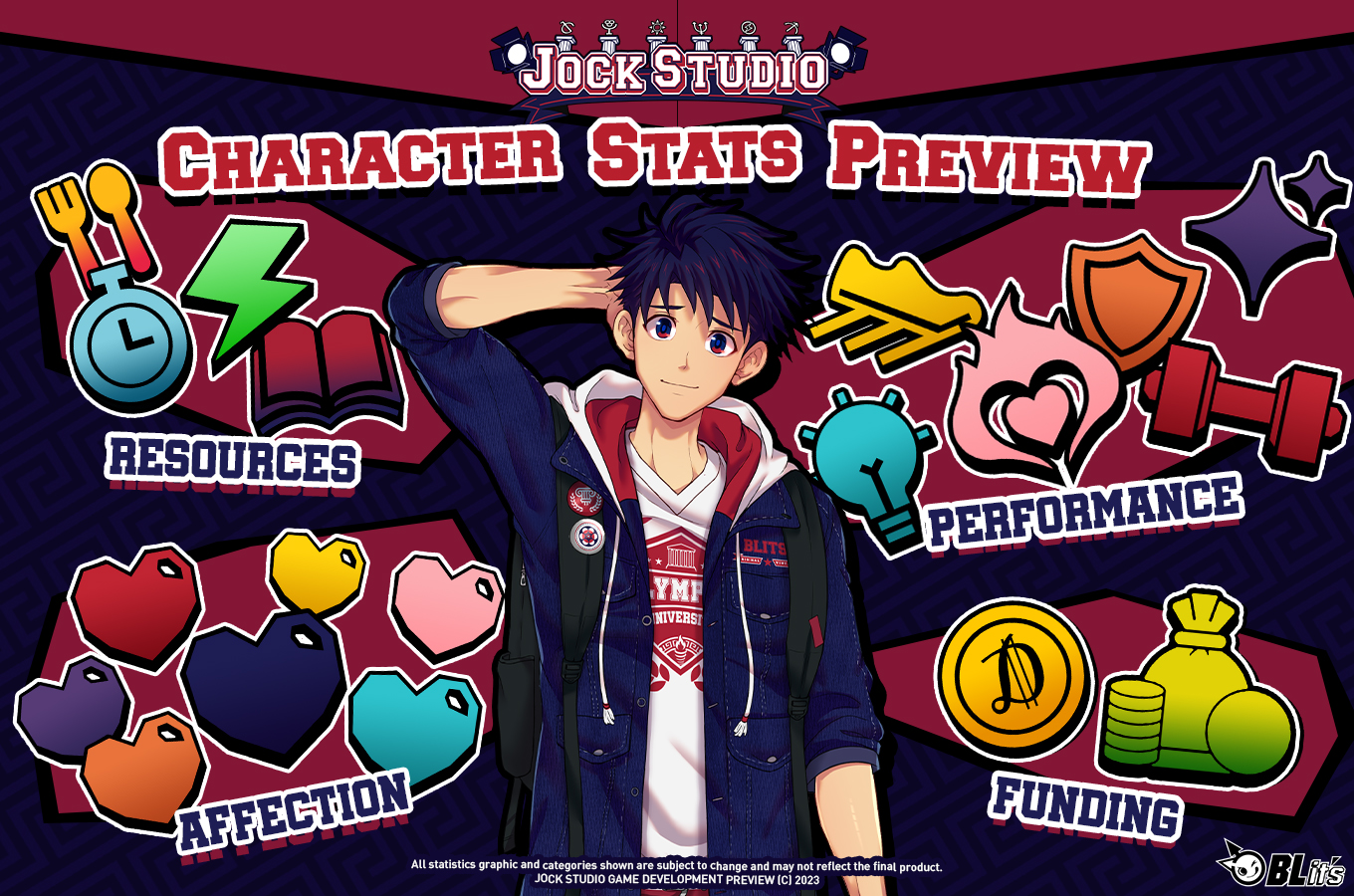 Each of these categories affects a different area of gameplay in Jock Studio, and will be important to balance out throughout the story to achieve your perfect endings!
First up, your Resource Stats are tied directly to how many activities Ace can perform in a day – make sure to take proper care of him and choose his activities wisely, or he might end up exhausted!
Second, your Funding Stats are invested in upgrading the film club, as well as purchasing various goods and services around the Campus and town! Make the most out of your hard-earned money!
Third, your Affection Stats builds your relationships with the Jocks and unlock their stories, special scenarios and achieve endings with them!
Finally, your Performance Stats affect how well the Filming Sessions go – make sure to tone every aspect of Ace's and the Jock's bodies, to make the most out of each Spicy Film!
We'll have more to show regarding these character stats throughout development, but we hope they've piqued your interest!
Part 3 – Music Previews
Finally, to wrap-up our Development Diary, we're excited to show off six new character soundtrack variants that have been added to the game's score – they have been composed by HMNK, AdlibPiano, and OtoKin. Check out the previews below!
Amazing, aren't they? We'll have more musical previews to show later on, but you can look forward to these tracks (and more) appearing in the final game!
Closing Word
That's all for this Development Update, Olympians, but we hope that everyone has enjoyed all these progress previews! Our team will continue to work hard and bring you even more new information on the next update at the end of October!
In the meantime, please look forward to our BLits Anniversary events in October!
Thank you as always for your support and excitement, and we'll see you in the next update!
Lots of love,
~BLits Games