Hey, buddies! We're back with another development update for Camp Buddy: Scoutmaster's Season! The following post contains information for all fans of BLits and Camp Buddy, so please read below for full details!
We've got a bunch of new topics to cover regarding Camp Buddy: Scoutmaster's Season, so make sure and check out all the topics below for a full update on development progress!
Story Progress
The last time we updated everyone, we announced that the entire first arc of the game had been written and was undergoing the proofreading stage and we are happy to announce that the proofreading has been completed. It is currently undergoing the prepwork to be fully coded, as well as ready to record new voiced scenes!
In addition to this, we've also been working on the two character routes, featuring Aiden Flynn and Goro Nomoru. So far, we've established a general story pattern for both characters, and are already halfway through writing Aiden's route! We anticipate finishing his story soon, and tackling Goro's soon after!
New Backgrounds (And Season!)
Next, we want to show you guys some new backgrounds that the team has been working on – featuring the Camp covered in snow! It's called 'Scoutmaster's Season' for a reason, and you'll be able to see Camp Buddy for the first time in both Autumn and Winter!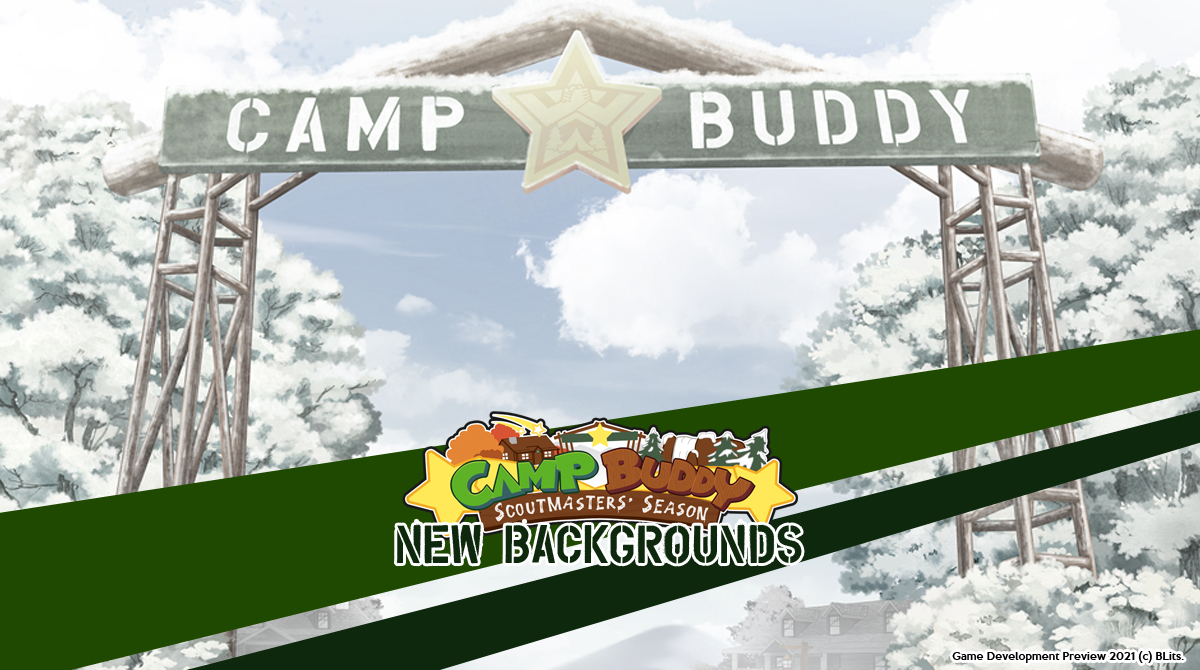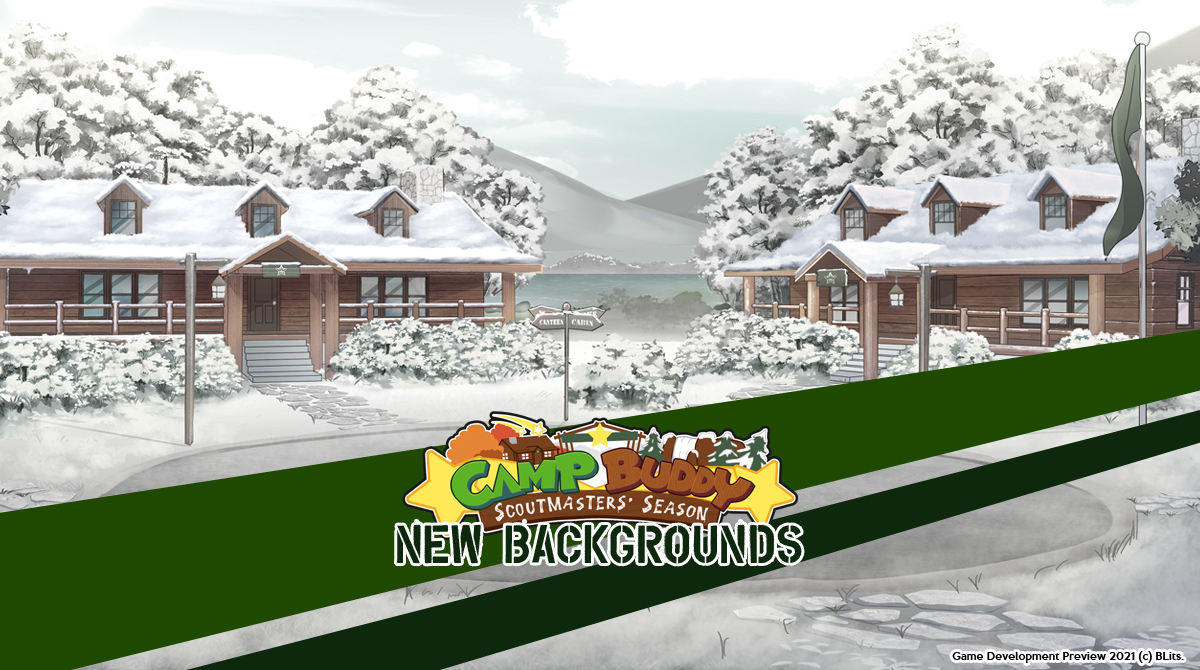 New Artwork!
We know everyone is eager to see the new artwork featuring in the game, especially when it comes to the sexy scenes~ Well, wait no longer, as we have some sketch previews ready to show you all!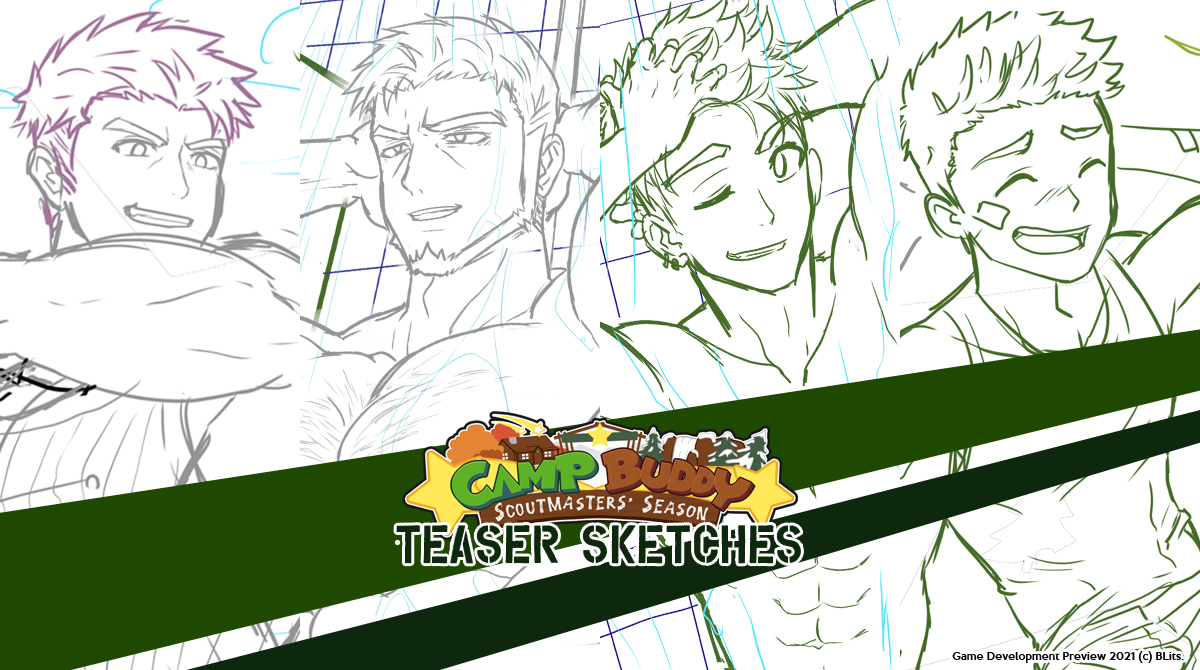 These scenes will feature in Scoutmaster's Season, and there's a lot more than this, but we'll have to keep the rest to ourselves for now!
Updated Sprites & New Characters!
Like we teased last time, we have a couple of cameos showing up in the story, and the two we're sure you're most excited to see are none other than Taiga Akatora and Yoichi Yukimura! After the events of Camp Buddy, both of them are staying at the camp for the year and helping out, so they'll be making minor appearances throughout the story! And since the weather is changing, they needed some new outfits~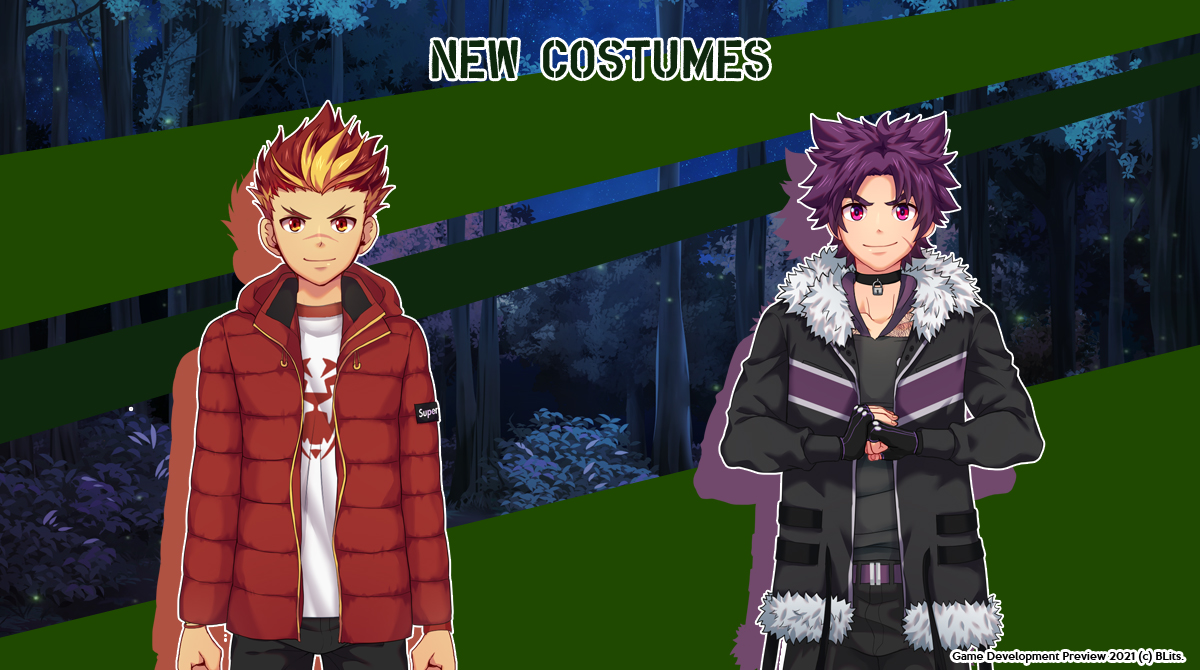 Yoichi and Taiga are dressed for the cool weather and looking stylish too! Like we mentioned before as well, they aren't the only cameos you'll see in Scoutmaster's Season either, but you'll have to stay tuned for more information on that later.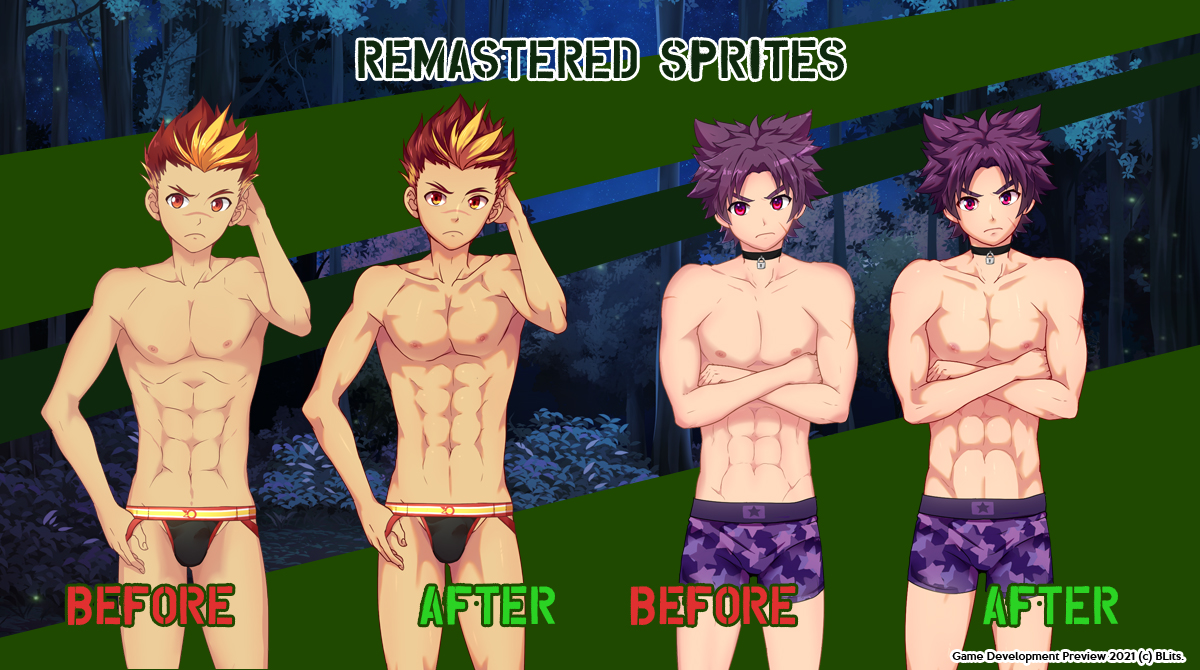 Please note that these updates are exclusive to Camp Buddy: Scoutmasters' Season only.
Next, we're super excited to show off the new characters that we teased in our last update, two more workers who have been hired by Clermont Inc. in order to update the camp!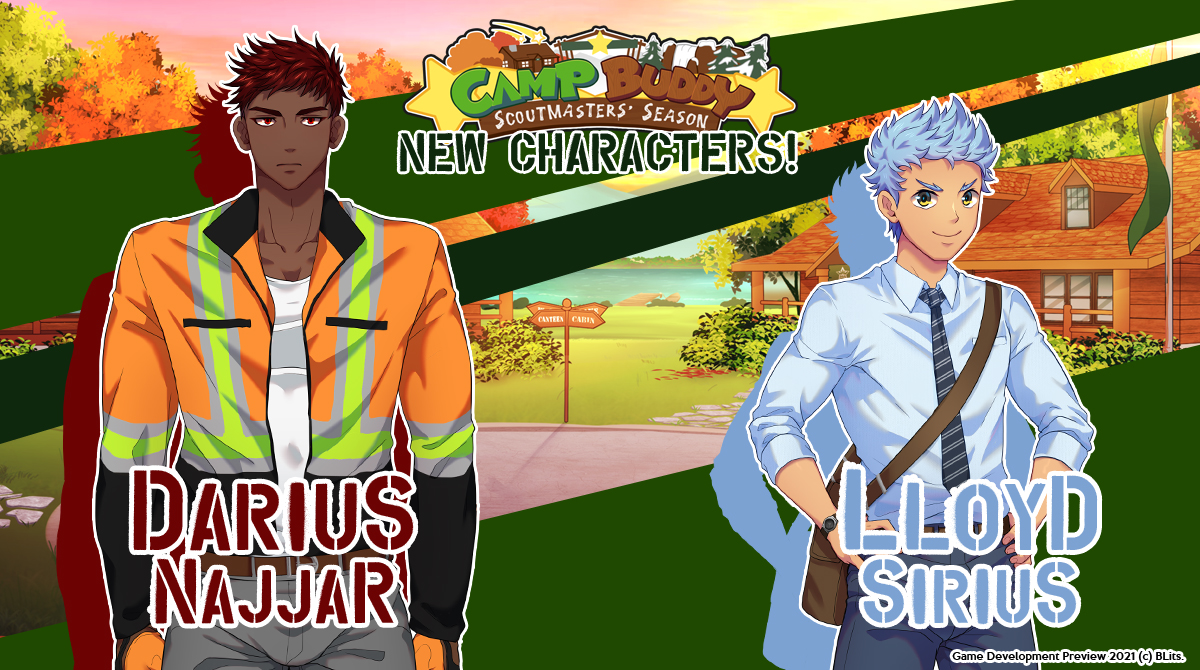 First up is Lloyd Sirius, an Architect with big ideas (even if he's a little bit short). He can be eccentric at times, especially when it comes to his love of astrology, but his new co-workers will just have to get used to it!
Next is Lloyd's partner-in-crime, Darius Najjar! Darius is a construction foreman who works alongside Lloyd to bring his designs to life. Tall, strong, and a man of few words, Darius can be intimidating to some, but he's really a softie once you get to know him!
Both of these new characters will be featured in the first arc of the game, as well as Aiden and Goro's routes, so you can look forward to learning more about them in game! In the meantime…
Casting Call for new Voice Actors!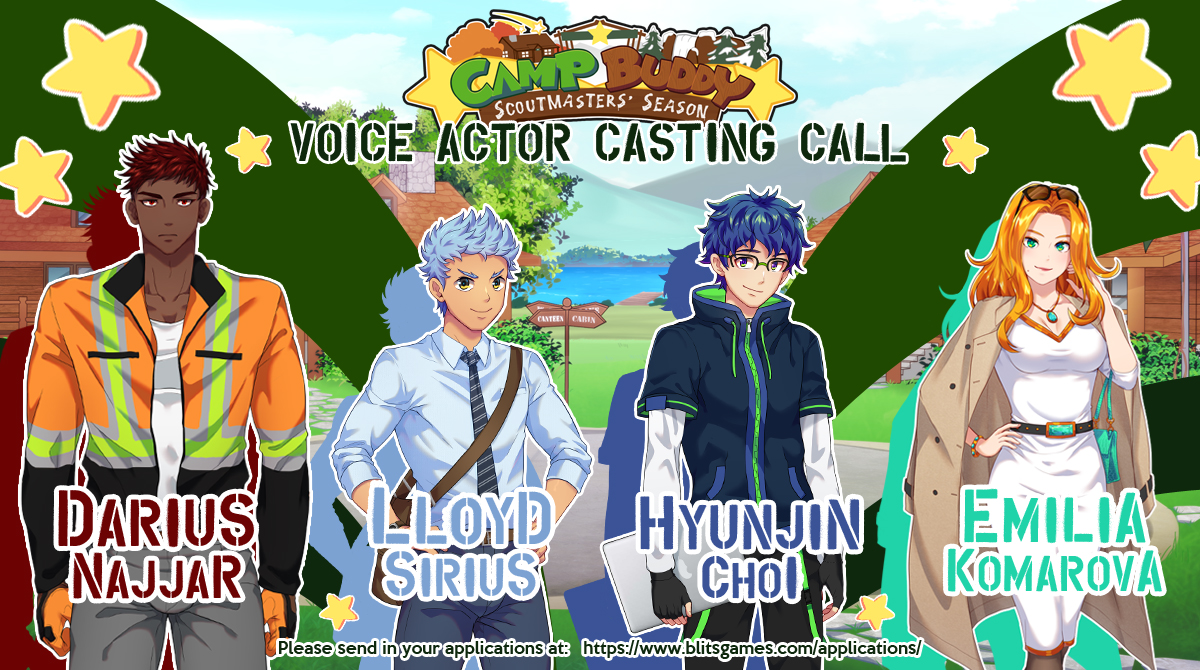 …All these new characters need brand new voices, too! We're happy to announce that we're seeking out voice actors for all four of the following new additions to the camp:
Hyunjin Choi
Emilia Komarova
Lloyd Sirius
Darius Najjar
If you're interested in voicing one of these characters, please fill out an application at the form below, and make sure to read the instructions carefully! In addition, if you've ever sent a voice actor application to us in the past, we'll be happy to review that application again, but you're also welcome to apply once more!
We'll be taking in applications for these characters over the next week (until 12:00 PM EST 06/04/21), and hope to have a decision on all four by the end of June, so you can look forward to more news about their casting later!
Closing Note
That's all for now buddies, and we hope you all enjoyed this development update! We'll be back soon with more information regarding all of this, and we hope that you'll stay tuned for news in the future! If you have any questions or concerns, feel free to ask in the comments below, or send us an email to [email protected] and we'll be happy to help!
Thank you again for all of your support, and we'll see you guys in the next update!
Lots of love, ~BLits