Hey, buddies! The final patch for Camp Buddy, Camp Buddy version 2.2, has finally launched for everyone to enjoy! To celebrate this, we're holding a sale for both the PC and Mac versions of Camp Buddy! Until June 30th, you can purchase them for 20% off here on our website! You can find a full detailed summary of all the changes included in this huge update at the Patch Notes below:
Please read carefully through the post below as we guide you through how to download and install the update:
HOW TO UPDATE THE GAME to v2.2
Please follow the instructions below to download and install your update!
1)  In order to play the new Update, you will need to re-download the Camp Buddy game (Filesize: 5.3 GB).
For those who have purchased the game through our website,  you will receive an email (in the same e-mail address you used to transact in BMT Micro) from us with a link to download the new version of Camp Buddy on your respective platform (Windows or Mac). However, we would like to note that all BMT Micro purchasers may also re-download the game (with no fees) at any time from BMT Micro's website using the same link they received on purchase!
For the patrons who were entitled to a free copy of the game, you will receive an e-mail from us with a download link  to download the new version of Camp Buddy (in the same e-mail you have used for Patreon / received your Camp Buddy v2.1 game copy)
Please be aware that sometimes emails from us go into the spam/junk folder, and check there before requesting a new download link! Please also be reminded that your product ID is not a valid purchase receipt. We can manually verify your purchase from your email, but emails with valid proof or purchase will be prioritized.
Once the game is downloaded, please extract the software like below:

2)  Once the extraction is complete, please click the "Camp Buddy.exe" file in the new folder, and the game will run! Please also note that Saves and Gallery data may not cross over from the previous version, and if you encounter an error when loading a save please delete that save in order to resolve the issue. We apologize for the inconvenience! 
This update is free for everyone who purchased and are entitled to a free copy of the game.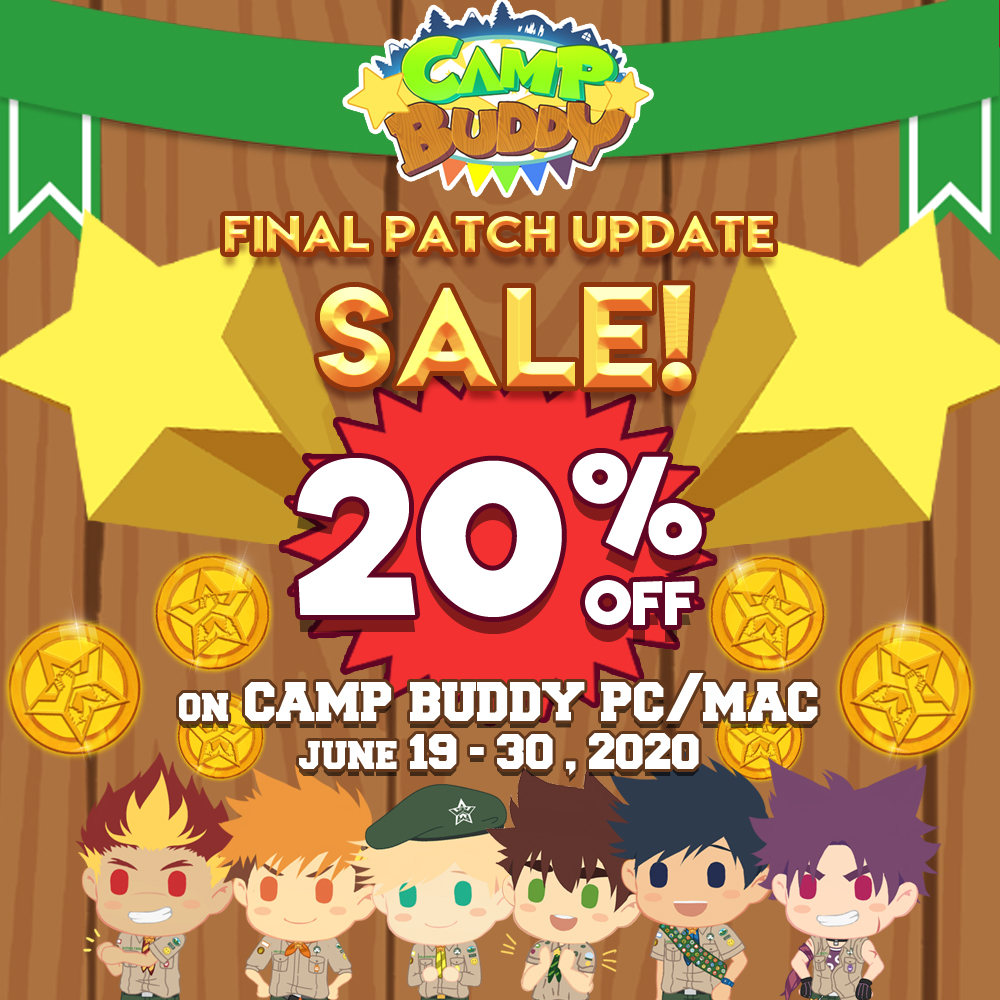 Celebration Sale!
Like we mentioned at the start of the post, in order to celebrate this final, huge update to Camp Buddy, we're holding a sale! From now until June 30th, you can get Camp Buddy PC or Mac for 20% off! Make sure you pick it up at this limited-time discount while you can, buddies!
Closing Message
With this update, the base game of Camp Buddy has been fully completed, and there will be no further updates to the game (unless in the case of crucial errors or for translations)! We want to thank everyone for all of their support and patience with us through this development journey, and we are so happy with where the game has gone and how far it has come since the beginning! Although this is the end of Keitaro and his friends' journey throughout the camp, it's by no means the end of BLIts journey, or even Camp Buddy! With the release of Patch 2.2, we will now be focusing all our efforts onto the Camp Buddy Expansion Pack, featuring Yoshinori Nagira pursuing either Aiden Flynn or Goro Nomoru! You can all expect more news about it, as well as future projects, very soon!
Thank you all very much, and we'll see you soon, buddies!
If you need help, please don't hesitate to send us an email at: [email protected] 
Lots of love,
-BLits Team