UPDATE – Thank you to everyone who participated in our Camp Buddy 3rd Anniversary Giveaway! We've loved reading all of your entries, and want to congratulate our three winners, @SilveOfisial @kool_whipped and @cseighteen !
Hey there, buddies! Three years ago today, BLits released its first project, Camp Buddy, and ever since then, we've loved hearing and receiving feedback and stories about each of your experiences with the game! Every year, we hold a giveaway on the Anniversary, and this year is no different!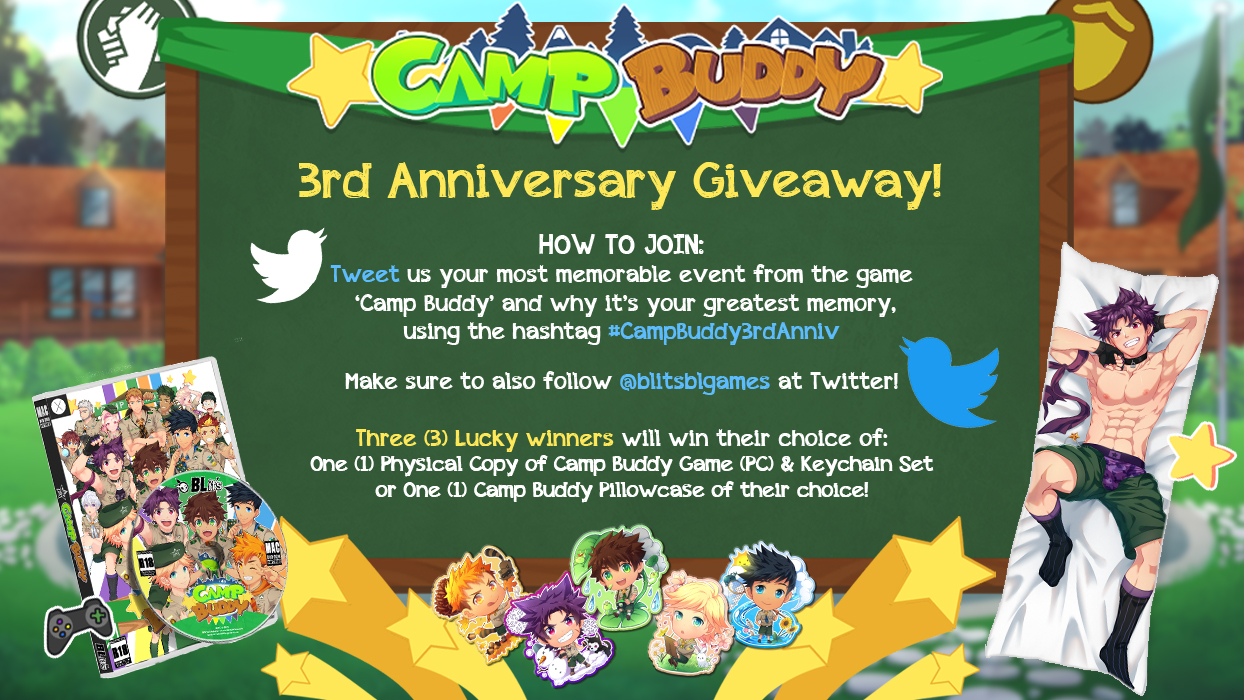 Hop over onto Twitter and tell us your most memorable event from the game 'Camp Buddy' and why it's your greatest memory, then make sure and follow the BLits Twitter (@blitsblgames) and use the hashtag #CampBuddy3rdAnniv so that you'll be automatically entered into the giveaway!
Three lucky winners will be chosen to win their choice of One (1) Physical Copy of Camp Buddy Game (PC) & Keychain Set or One (1) Camp Buddy Pillowcase of their choice (shipped for free!).
You have until the end of Sunday, November 14th ,2021 to enter the giveaway, and we'll choose the winners on Monday, November 15th ,2021! Good luck, and we can't wait to hear all of your experiences!
That's all for now buddies, but please also check our Scoutmasters' Season Development Update that we've also posted today at the link below:
Thanks again for all your support over the years, buddies! We're really looking forward to the future, and hope you all are as well!
Lots of love,
~BLits Games