Hey, buddies! It's been two weeks since Camp Buddy: Scoutmaster Season launched, and we've been so happy to see all of you reacting to it and enjoying playing through the game! As promised, we're back with some news about what's next for BLits, and what our plans are for the immediate future.
The following update contains information for all fans of BLits and Camp Buddy, so please read the post in its entirety!
Camp Buddy: Scoutmaster Season Cover Art
As we wanted to make sure that everyone could play Camp Buddy: Scoutmaster Season as soon as possible, we decided to push back releasing the cover art of the game until after the initial release. We couldn't skip it entirely though, as it looks awesome, and we want to show you all a preview of it now!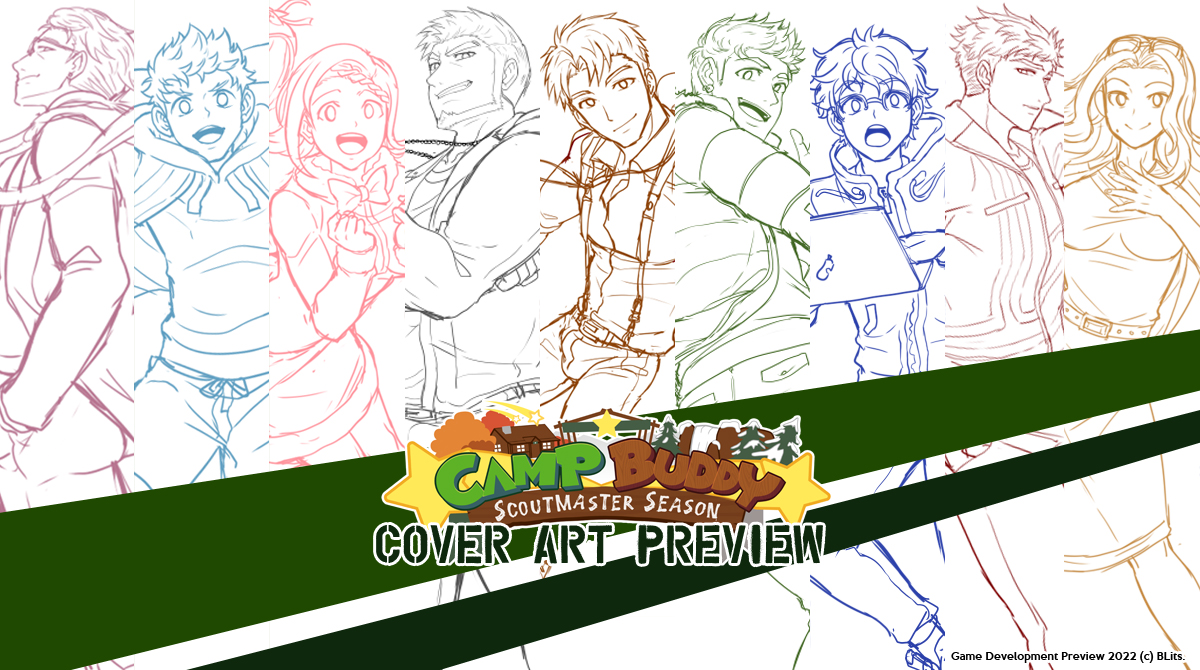 We will also stream the lineart and coloring process of the cover art soon, so please check out @mikkoukun and @zaelblue Twitter for the stream link!-
Camp Buddy: Scoutmaster Season – Patch 1.1:
Our first priority is going to be to launch a patch for Camp Buddy: Scoutmaster Season, containing bug fixes for the various issues you all have reported to us, such as issues with the minigames and other minor adjustments.
In addition to these bug fixes, we are also going to be including some new content in the game, including new costumes, and Scene Images!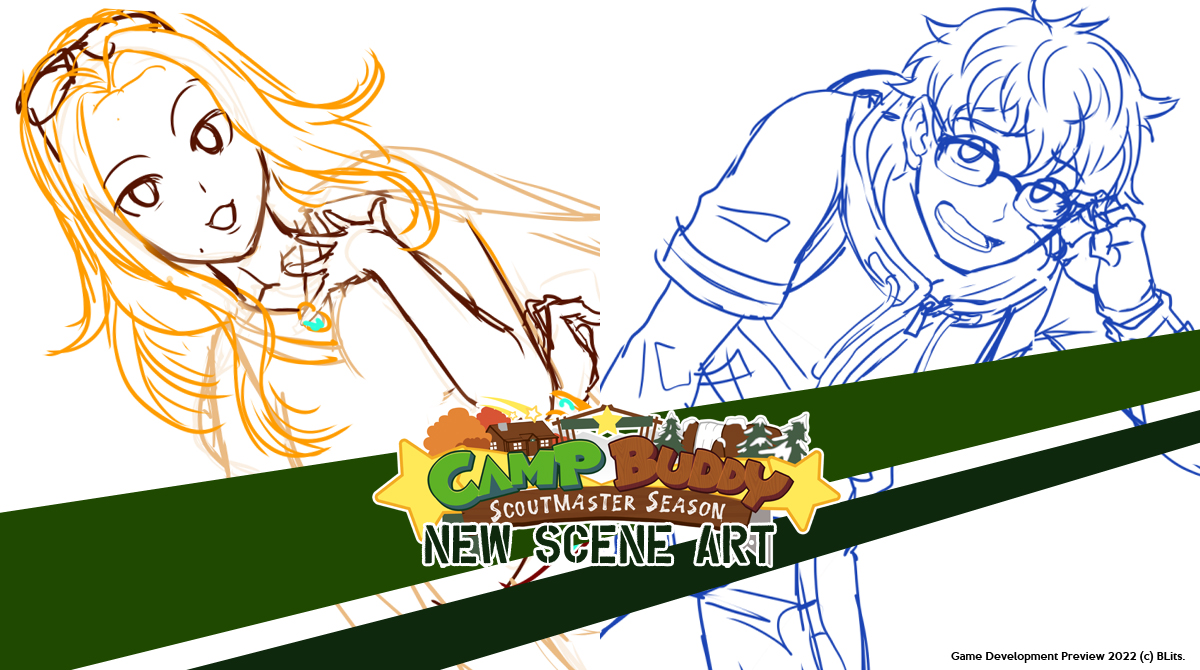 Emilia and Hyunjin's introduction scene art was cut out from the initial release, so we wanted to make sure to give them the proper showcase!
And that's not all – we're going to be adding a new feature in the secret tent to reveal the  much-anticipated crack scenes!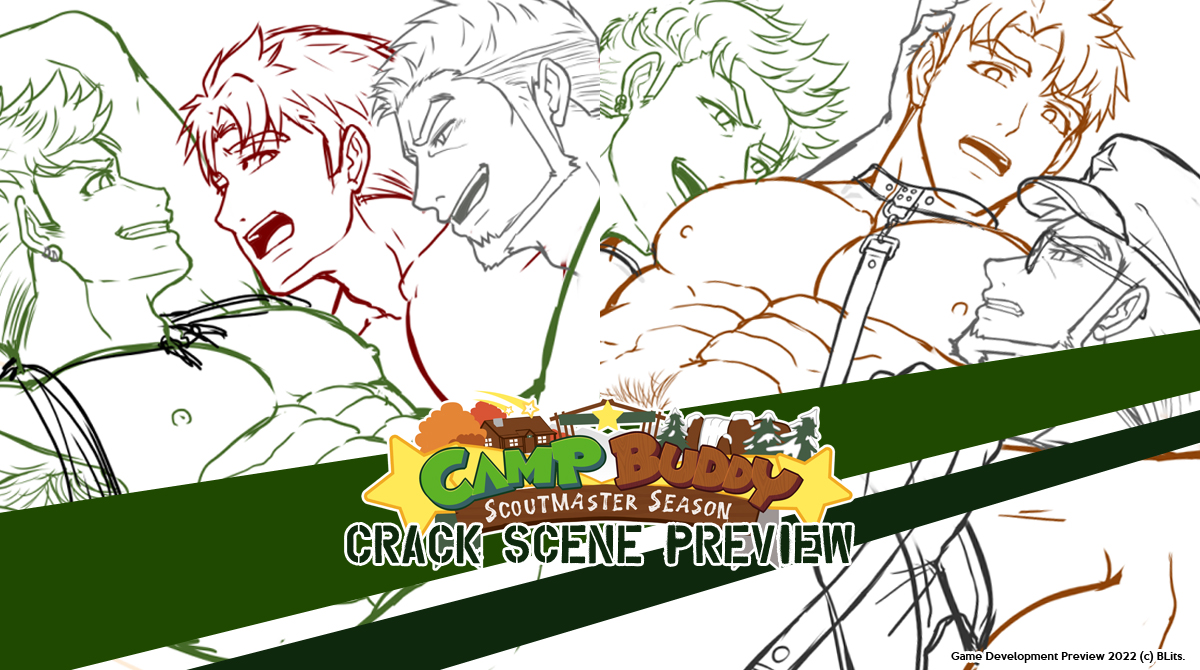 We won't tell you how to unlock these scenes, but be sure to play through and find out, as they're well worth it…
Camp Buddy: Scoutmaster Season Patch 1.1 will release soon, but we don't have an exact release date – we are only planning to announce the release date once the patch is fully completed, so please stay tuned for more information!
Camp Buddy: Scoutmaster Season OST:
We have also begun the process of getting the Camp Buddy: Scoutmaster Season Original Soundtrack uploaded to Spotify, Youtube Music, Apple Music and other platforms! The OST has to go through the approval process, and it will still be a few weeks before it shows up on these platforms, so please bear with us on the process! We will make a separate announcement when this product has launched, but in the meantime, you can listen to most of the OST in game or on our Youtube channel, which has been uploaded today!
Steam for Camp Buddy & Scoutmaster Season
As many of you have requested, we have begun researching into releasing both Camp Buddy and Scoutmaster Season on Steam! We have only just begun the process, so there is no additional news on a Steam release at this time, but we will announce further when we have more details!
Please be informed in advance that the digital copy of both games on Steam would be a separate purchase from the official BLits website! All future updates / DLCs will be available and/or included on both the website copy and on Steam!
Additional Patches & The Future Beyond
After all of these releases, our plan is to continue to update Camp Buddy: Scoutmaster Season with animations for the sex scenes, as well as additional bug fixes as they come up. We do not have plans for additional routes at this time but will announce separately if that changes. You can expect the animations patches a few months from now, after our team has had time to work and properly test them!
Beyond Camp Buddy: Scoutmaster Season, our team has been conceptualizing new projects and exciting plans for the future, but we will announce more about these on a separate post, so please stay tuned!
Closing Word
That's all for now, buddies! We will be back with more news about the OST and Scoutmaster Season Version 1.1 later, but for now we hope that everyone continues to enjoy the game and share your thoughts and feelings about it! Additionally, if you have any questions, please feel free to comment below or send us an email to [email protected]
We would also love to continue receiving your feedback and bug reports via the official link in the website!
Thank you again for your support and love, we'll see you all at the next update!
Lots of love,
~BLits Games