Hey, buddies! We're back with exciting news – Camp Buddy: Scoutmaster Season has officially launched for purchase on Steam! You can either purchase it directly from the Steam Store or get a key for it here on our website at the link below – just select Steam Key from the dropdown:
https://www.blitsgames.com/product/camp-buddy-scoutmaster-season/
Please note that the Steam copy of the game is a separate purchase from the website version. Thank you for understanding!
The Steam version is up to date with the most recent Patch, version 1.2, and will contain all future updates to the base game including more animations.

What are the benefits of the Steam Version?
Additional Features – New features such as Steam Achievements allow you to show off your Camp Buddy badges and feel like the game is truly complete!
Easier Updating for Future Patches – You no longer have to redownload a copy of the game if you own the Steam version! It will update automatically each time we push any changes.
More Payment Options – Utilizing Steam's services, we're able to provide different payment options than the ones available on our website, reaching a wider audience.
Regional Pricing – Thanks to Steam's robust systems, we are able to offer competitive regional pricing for Camp Buddy: Scoutmaster Season in the international market.
Please note that if you already own a copy of Camp Buddy: Scoutmaster Season your saves and persistent data will not be compatible with the Steam Version. Please follow the instructions at the link below to delete your saves and persistent data in order to ensure there are no issues with your game copy:
https://blitsgames.zendesk.com/hc/en-us/articles/360037521232-My-game-still-lags-even-after-the-Patch-especially-on-the-save-screen-What-do-I-do-
We hope everyone enjoys this new version, and if you do, please leave us a review and a thumbs up on the page, it's a huge help for us!
Steam Release Sale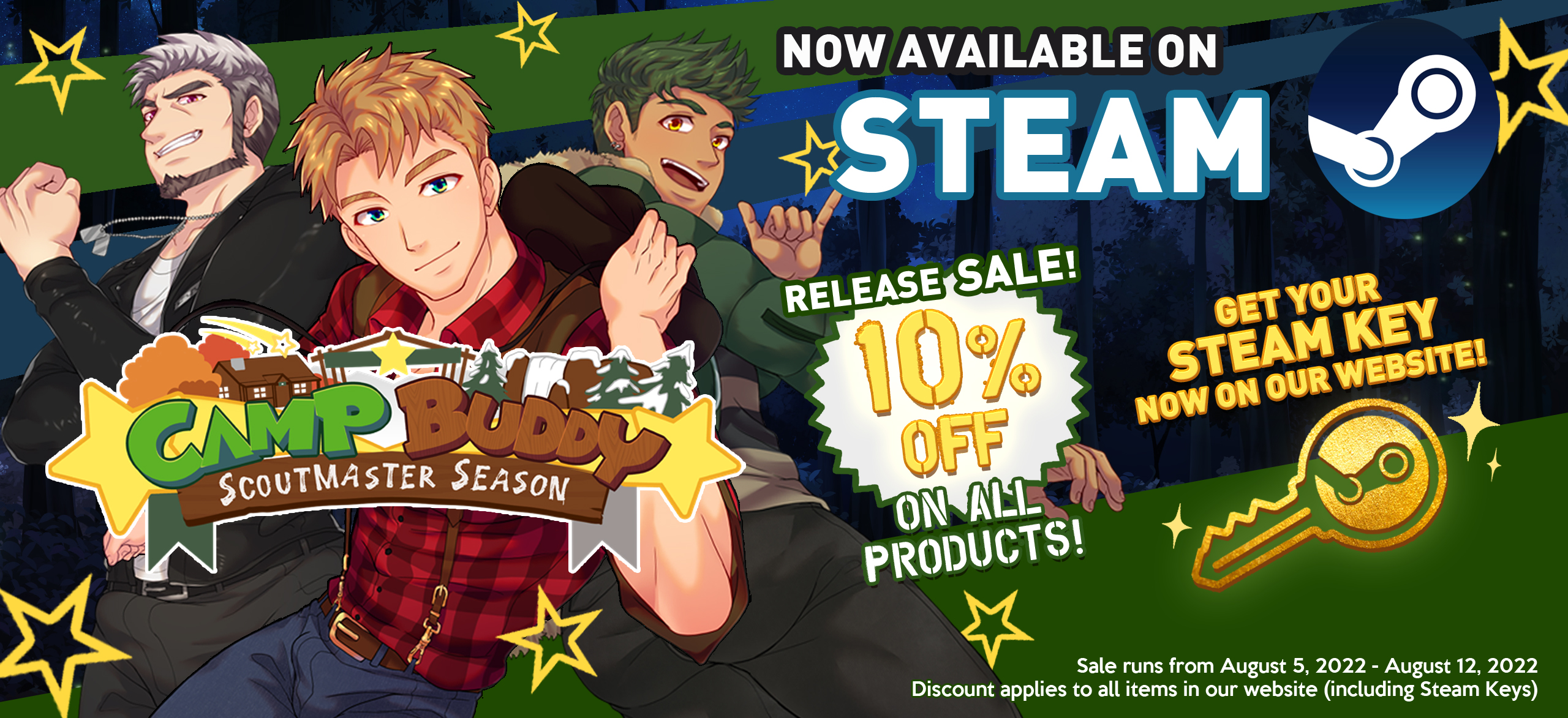 In celebration of the release of Camp Buddy: Scoutmaster Season on Steam, we're holding a sale for 10% off everything in our store, including the newly released game! Starting from now until Friday, August 12th at 12:00 PM EDT, you can take advantage of these discounted prices! There is no discount code this time, so just add to your cart and the discount is automatically applied!
Closing Note
That's all for now buddies, and thanks for your support and excitement of this new platform for Camp Buddy: Scoutmaster Season! We'll be back later in the month with more news about Patch 1.3 and something even bigger very soon, so please stay tuned!
Lots of love,
~BLits Games