Hey, buddies! We're back with some exciting news – today is Camp Buddy's Fourth Anniversary! On this day in 2018, Camp Buddy was launched, and since then has taken off in ways we could never have expected, thanks to all of you, our fans! To celebrate this special day, we have quite a few events in store – check them all out below!
Camp Buddy Lootbox
We have an exciting, new, limited-edition product available for pre-order just in time for our Camp Buddy 4th Anniversary – A Camp Buddy Loot Box! Some fans may remember our collaboration with Yaoi Crate last year and, with its popularity, we decided to make a loot box of our own!
We've filled this loot box with exciting items, including an Acyrlic Standee, a Leatherette Notebook, Sticker Sheets, Keychains (including a never-before seen design), and more! You can see all the contents, as well as order yours now at the link below: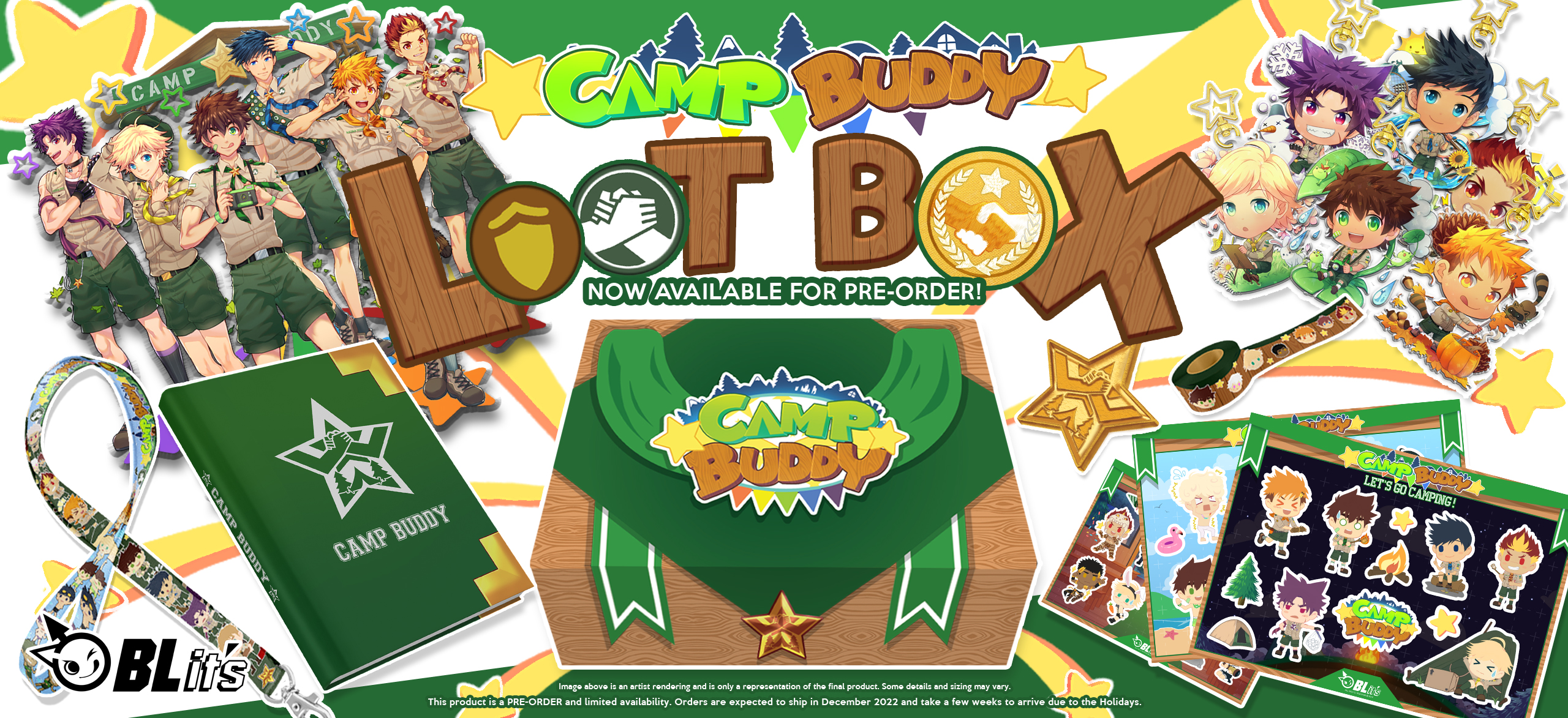 Please note that this is a limited-edition product and stock may run out. The product will ship in December, and we expect shipments to take a few weeks due to the Holidays. Thank you for understanding!
Camp Buddy & Scoutmaster Season Art Contest!
Many of our fans will remember that we've held two different art contests over the past few years, and we thought now would be the perfect time to hold another one in celebration of Camp Buddy's anniversary!
This contest will feature the theme: "Life Outside Camp"! Spark your imagination and show us what you think our campers and scoutmasters are doing outside of camp, whether it's being busy with a job, enjoying a hobby, or hanging out together with friends; this is your chance to create your own story through an illustration for everyone to see!
See below for full details of the contest: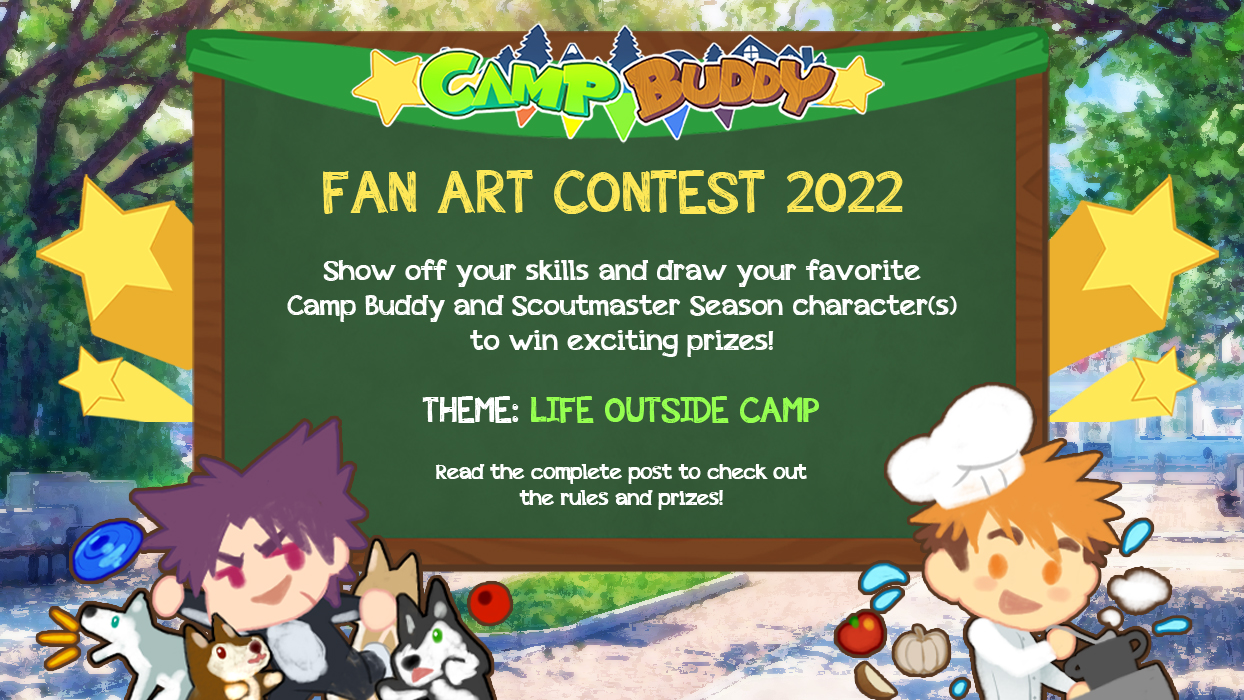 Schedule
Start of Submissions: November 11, 2022
Deadline of Submissions: November 30, 2022
Contest Results: December 2, 2022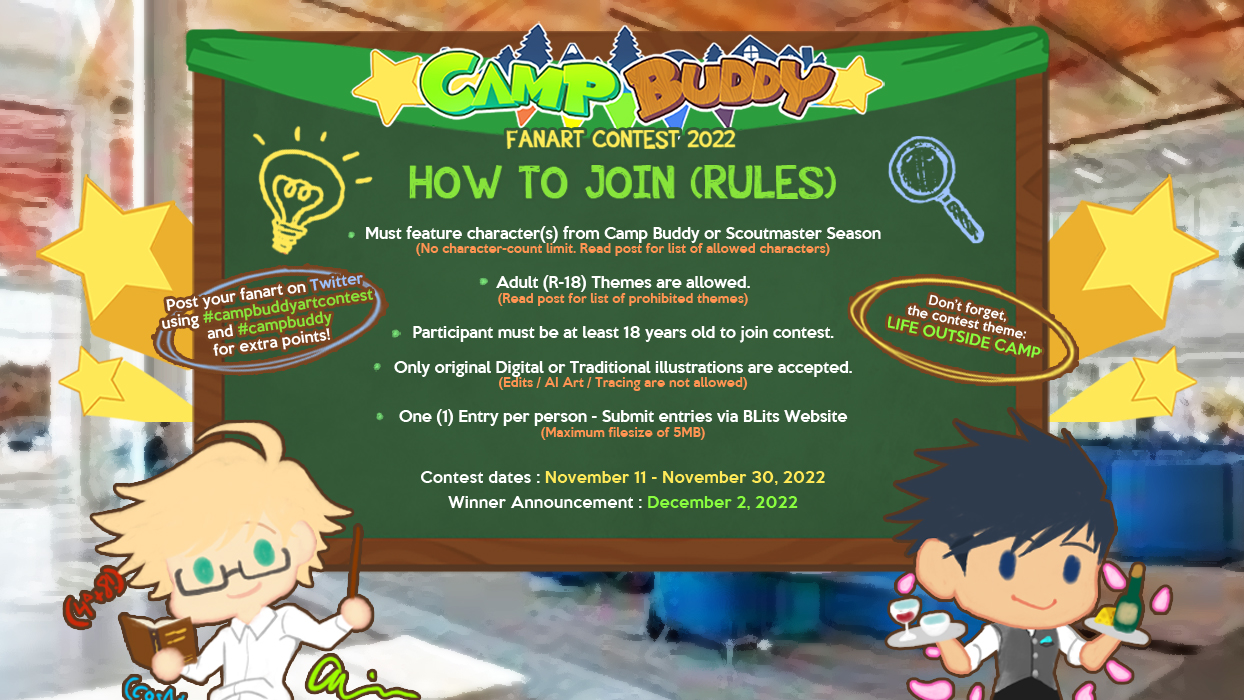 Rules & Mechanics
You must be 18 years or older to enter the contest!
Submissions can be both Safe for Work (SFW) and Not Safe for Work (NSFW R-18), but entries featuring themes such as violence, gore, rape, incest, gender-bend, etc. will not be allowed.
Entries must be an original illustration made by contest participant using Digital or Traditional media. Edits to existing artwork, AI Art, and tracing are not permitted to join.
Limit of one entry per person – no duplicate entries!
Since the theme is Life Outside Camp, whichever Camp Buddy or Scoutmaster Season character(s) you choose to draw should be featured in a theme and location outside of Camp Buddy!
There is no character limit on the entries, so feel free to include as many Camp Buddy or Scoutmaster Season characters as you want!
Submission filesize is limited to 5MB
List of Allowed Characters:
Keitaro Nagame
Hiro Akiba
Natsumi Hamasaki
Hunter Springfield
Yoichi Yukimura
Taiga Akatora
Eduard Fitzpatrick
Lee Kurosawa
Felix Clermont
Seto Aihara
Yoshinori Nagira
Aiden Flynn
Goro Nomoru
Yuri Nomoru
Hyunjin Choi
Darius Najjar
Lloyd Sirius
Emilia Komarova
William Clermont
Hina Akiba
Heather Springfield
Archer Springfield
Yuki Yukimura
Naoto Hamasaki
Kieran Moreno
Andre Flynn
Vera Nomoru
Judging Criteria
Once all the entries are submitted on November 30th, the BLits team will judge them based on the criteria below, and the winners will be announced on December 2nd, 2022.
Art Style – The skill and uniqueness of how the character(s) are presented via the artist's style.
Creativity – How the artist incorporates the theme into the piece.
Effort – The attention to details drawn on the overall piece.
How to Join
To enter the contest, simply click the link below to fill out our Fanart Contest Submission form:
https://www.blitsgames.com/camp-buddy-fan-art-contest-2022/
You may also access this on our website through the Gallery Tab.
From here, you can upload your fanart submission until 11/30/2022, and the winners will be announced on 12/02/2022!
Important Note: Please be reminded that you need to submit your entry and accomplish the submission form via 'Submit a Fanart' in BLits Website to officially join the contest! Please also note that the name you have signed up for an account with will be your credited name in the website gallery.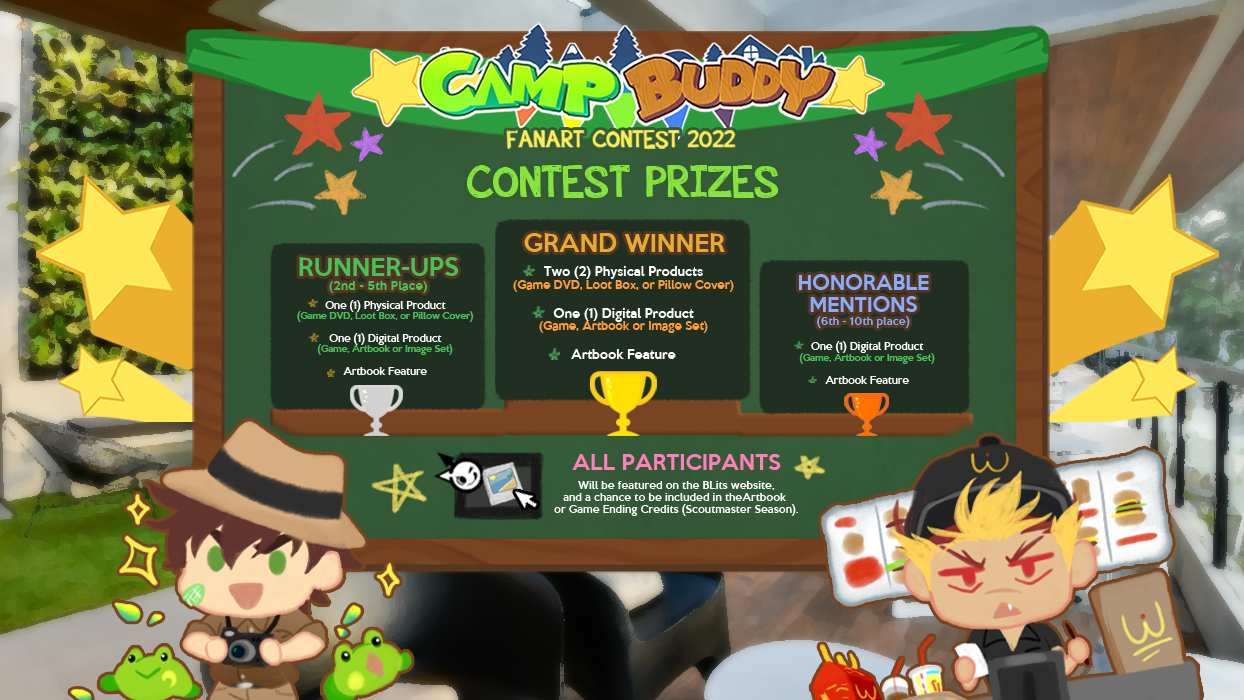 Prizes
Speaking of winners, we know everyone is excited to learn about the prizes for this contest! We have a bunch of exciting rewards for everyone during this contest, seen below:
Grand Winner

Two (2) Physical Product choices – Loot Box, Physical Game DVD, or Body Pillow Cover
One (1) Digital Product choice (Bundles not included)
Feature in the artbook

Runner-Ups (2nd-5th Place):

One (1) Physical Product choice – Loot Box, Physical Game DVD, or Body Pillow Cover
One (1) Digital Product choice (Bundles not included)
Feature in the artbook

Honorable Mentions (6th-10th Place)

One (1) Digital Product choice (Bundles not included)
Feature in the artbook
In addition, all entries will be included on the Fan Page of the BLits website (and a chance to be included in the Artbook or Game Ending Credits for Scoutmaster Season), although the winners above will all be featured in a special 'spotlight' section!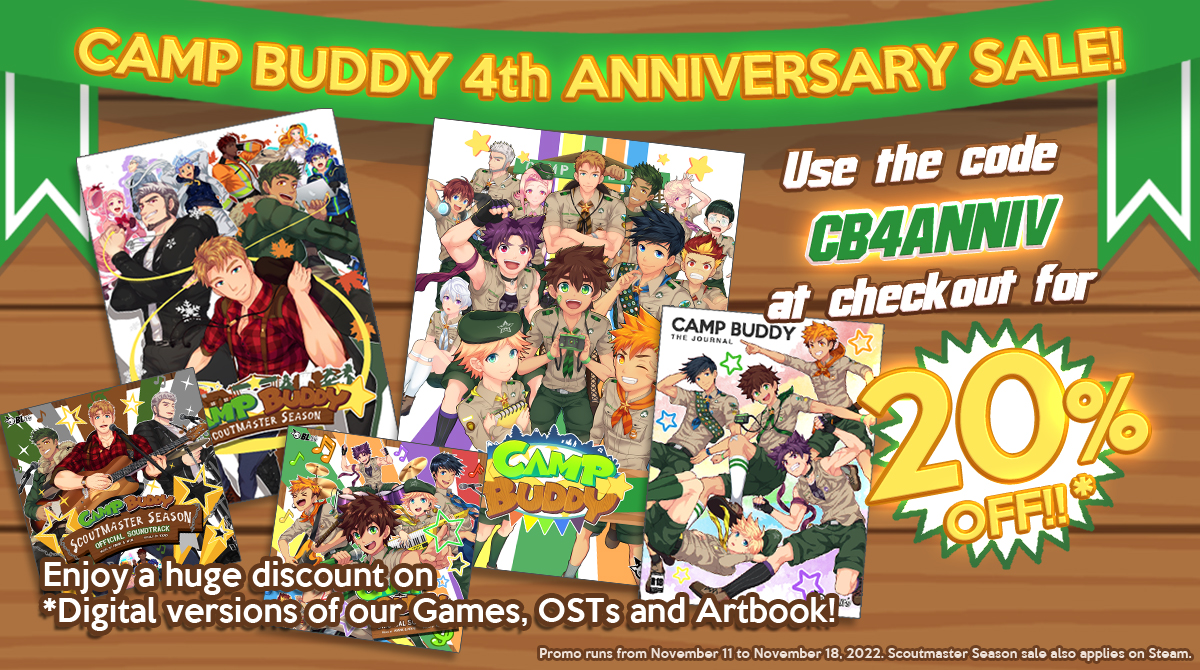 Camp Buddy & Scoutmaster Season Sale!
Finally, we'll be holding a sale for Camp Buddy, Scoutmaster Season, the Artbook and both game's soundtracks this month, as well as all of their bundles, for 20% off regular purchasing price! If you've been thinking about getting either of these games, now is the time to buy!
Take advantage of this offer by using the Coupon Code 'CB4ANNIV' at checkout – this discount will be in effect until November 18, 2022, so use it while you can, buddies! Additionally, if you're on Steam and wish to purchase a copy of Scoutmaster Season, it will be 20% off until November 18 as well!
Closing Note
That's all for now, buddies, but we'll be back on twitter and here on the website with more news and exciting events in the coming days! For now, get started on your art contest submissions and enjoy these new products! We can't wait to see what you all create!
Happy Anniversary, and lots of love~
BLits Games