Hey, buddies! It's hard to believe it, but today marks the six-month anniversary of Camp Buddy's release! We wanted to thank everyone for their generous support since that time period, from purchasing the game, to making awesome fanarts, video reviews, and more! Without fans like you, a game like this would never be able to be a success!
To show our appreciation and celebrate the anniversary, we thought it would be fun to hold a little contest, so today we're announcing the first official BLits Fanart Contest! This contest will be the first of many throughout the year, and for now will feature artists with a theme of 'Camp Buddy OTP's (One True Pairings)!' See below for full details of the contest: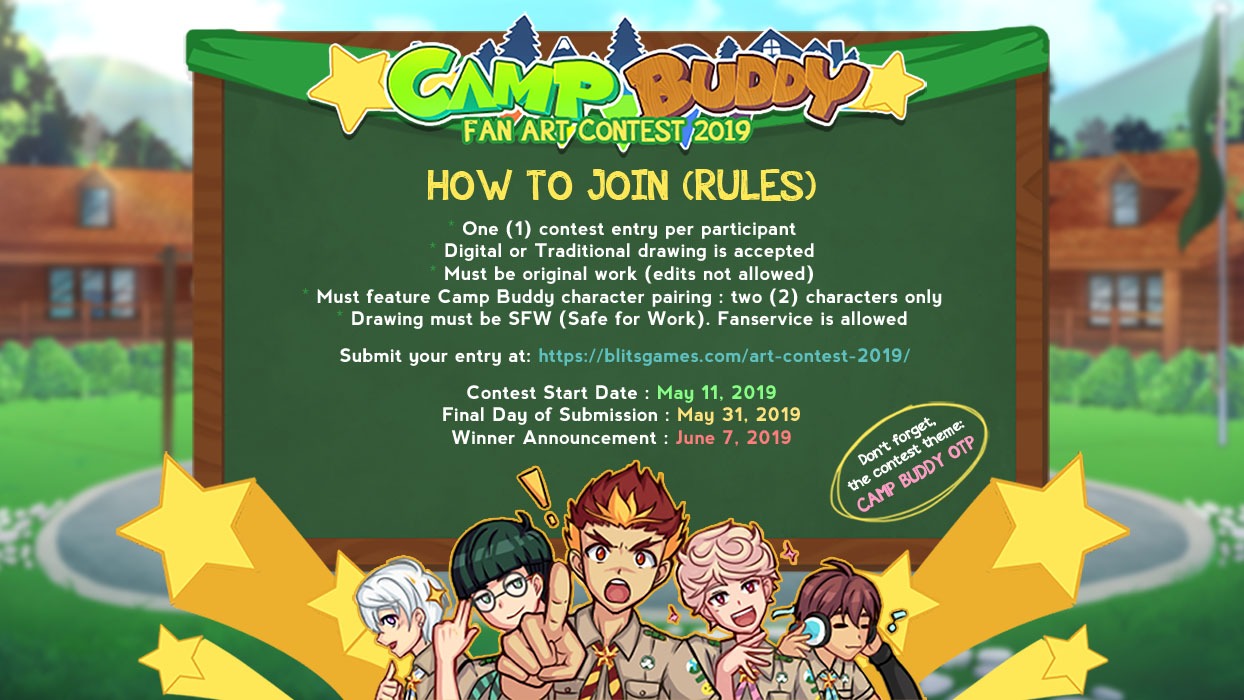 The contest will run from today, 05/11 until 05/31, when submissions will be closed!
Entries must be an original illustration made by contest participant, edits to existing artwork art not accepted.
Limit of one entry per person – no duplicate entries!
The contest is Safe for Work – Fanservice is allowed, but please do not include any visible genitals.
Since the theme is OTP's, the drawing should contain two characters, no more, no less!
Lastly, only digital and traditional drawings/illustrations are accepted! (A contest for other forms of art such as 3D Models, Music and Writing will be catered in future contests)
But what's a contest without prizes?! Like we said, we want to show our appreciation to everyone out there who's been a fan of Camp Buddy, so we're going to offer quite a few fun and exciting prizes to the participants! The BLits team will personally choose the winners, and the prizes are listed below!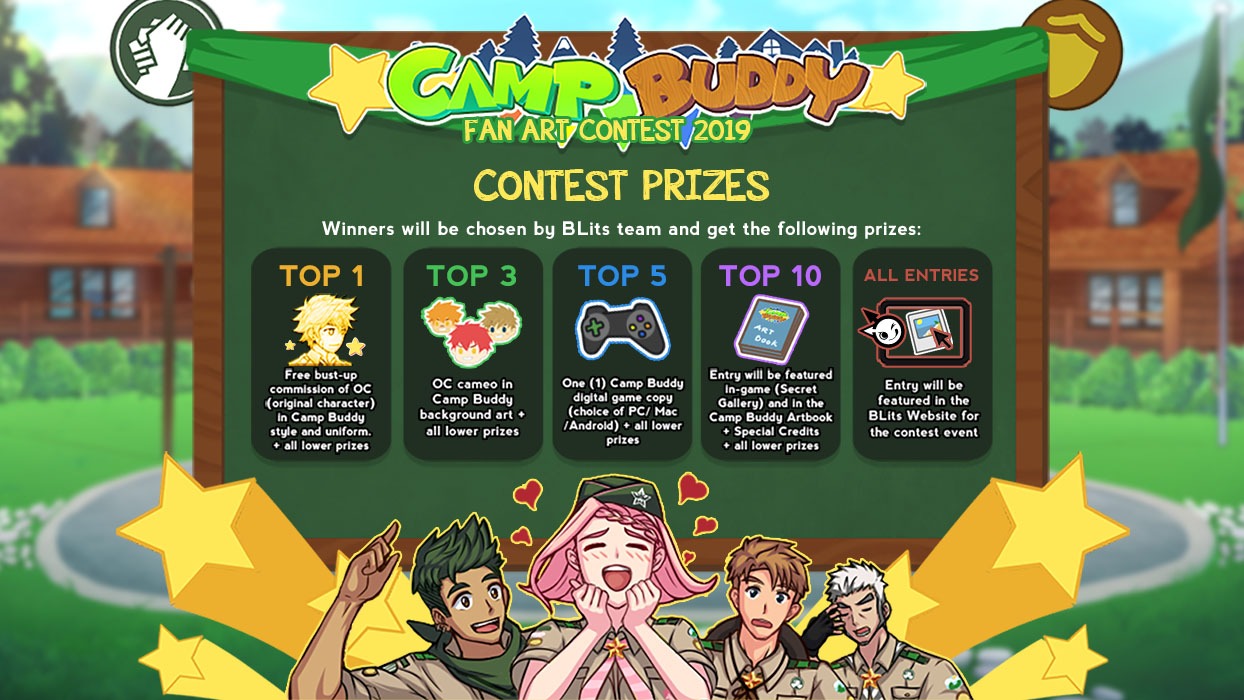 The top 10 Entries will earn a special place in the Camp Buddy Artbook and Secret Gallery, as well as a special thanks in the credits of the game!
The top five entries will receive a free copy of Camp Buddy for whichever system they choose!
The top three winners will get the opportunity to have their own OC's featured in a background of Camp Buddy!
The Grand Prize will be a bust-up, free, commission of any character of your choice drawn by Mikkoukun and Zael, in a Camp Buddy Uniform!
To enter the contest, simply click the link below to view the new Fanart Gallery on our website! From here, you can upload any fanart of your choice for your submission until 05/31, and the winners will be announced a week later, on 06/07!
https://www.blitsgames.com/art-contest-2019/
We want to thank everyone for their participation in the first fanart contest and wish everyone the best of luck! Thank you as always for your support, buddies, and we'll be back with more news and events soon!