Hey, buddies! It's been a while, but we're finally back with a full preview of the Camp Buddy Artbook, along with pricing and release info for the digital version! We've worked extra hard to make this book special, and it turned into much more than just an artbook – there's development info, trivia, sketches, and so much more packed into a massive 248-page book called "Camp Buddy :  The Journal"! Check out the table of contents below: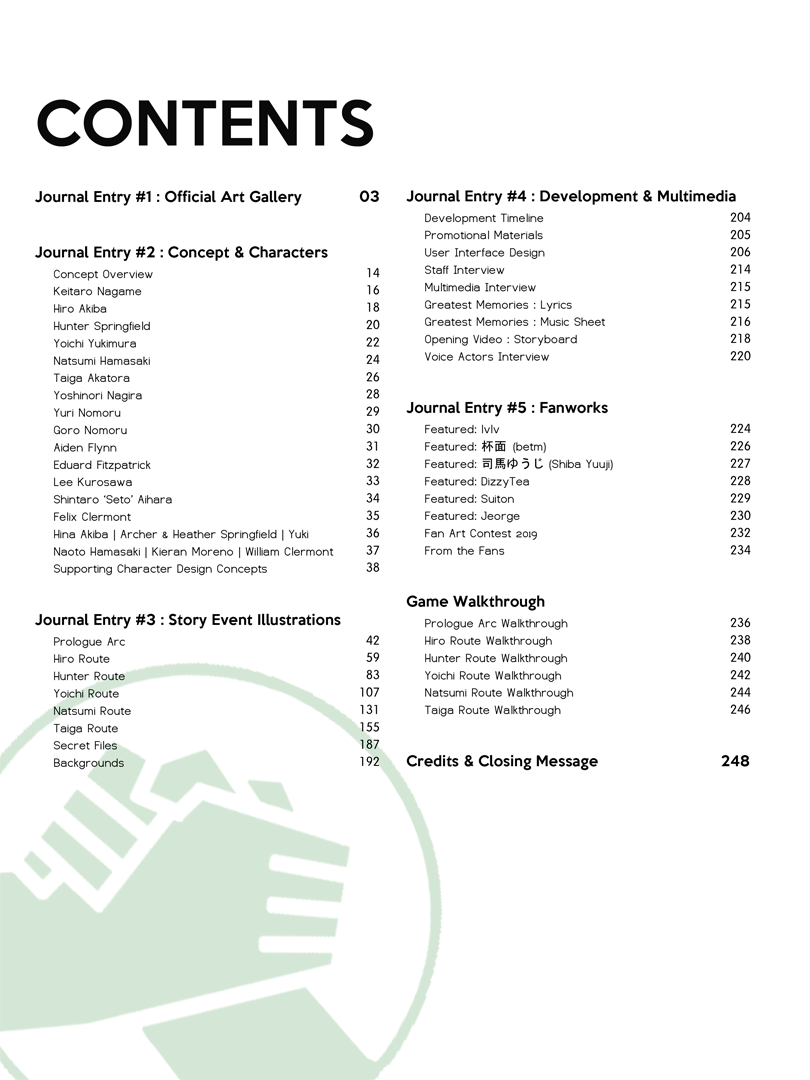 Woah, that's a lot of stuff! We'll be going into detail about each section below, so please read the entire post for the full information!
Please note – Preview Images may not 100% reflect the final product and could be subject to minor changes.
Journal Entry 1 – Official Art Gallery:
The first of our six sections is the official art gallery, containing all of the major promotional images used throughout the development of Camp Buddy! It even contains a brand new, amazing illustration – the cover for the Camp Buddy artbook! Check it out below: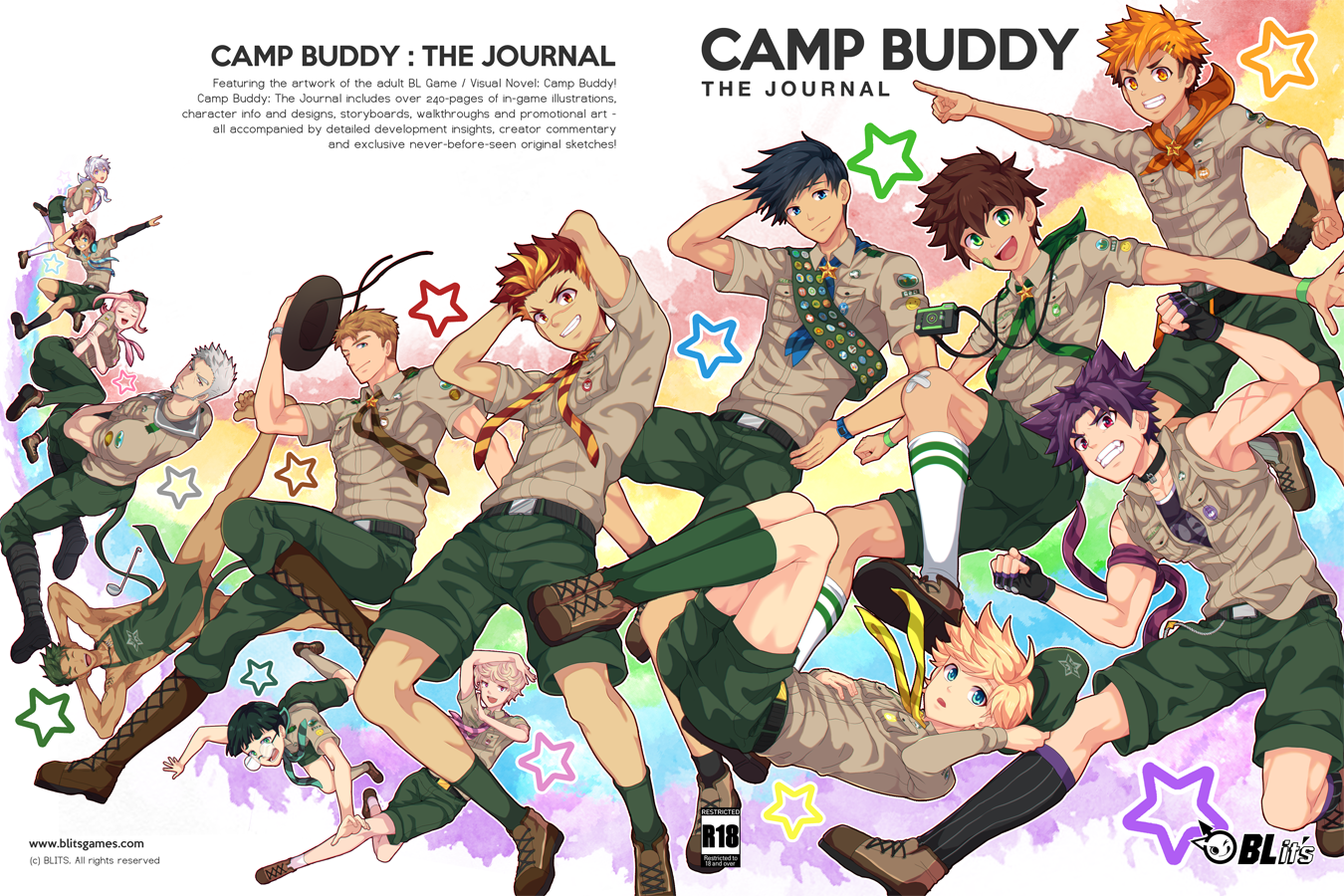 Journal Entry 2 – Concept & Characters:
Everyone knows and loves the cast of Camp Buddy, but it turns out, there's still a lot more to find out about them! This section is full of developer trivia, sketches and comments about each character, along with a full, expanded character profile for the main characters, and additional profiles for the side characters! Check out Keitaro's below: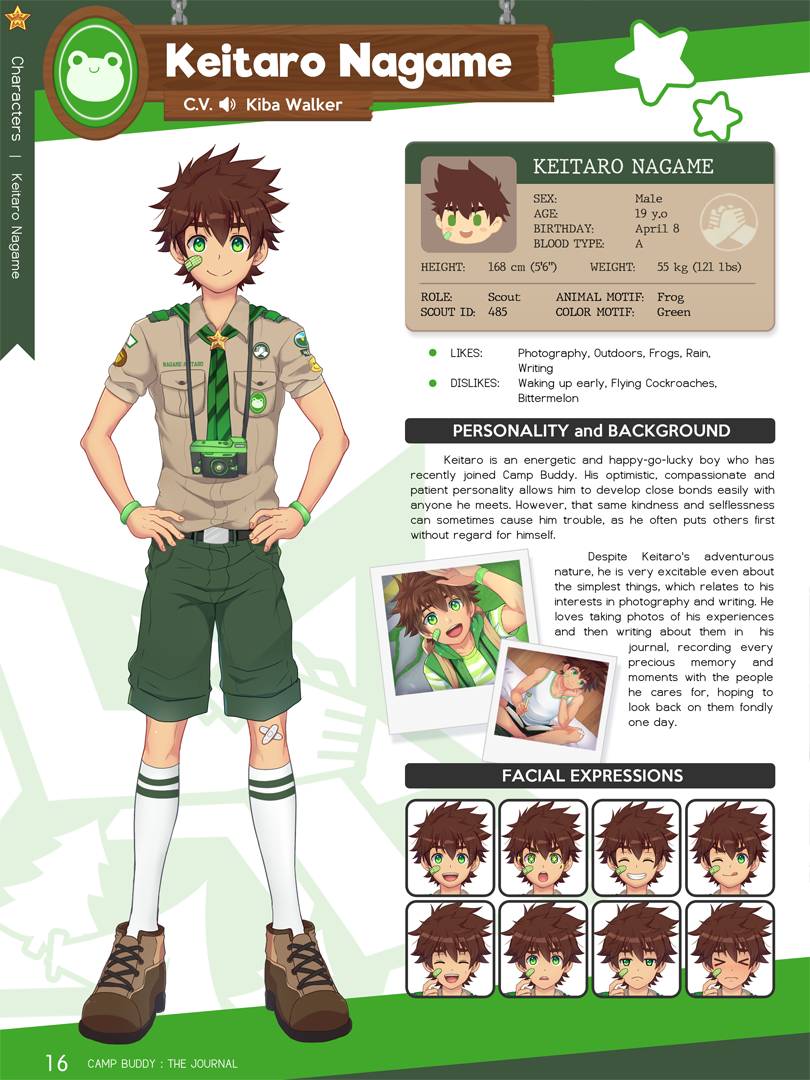 The first page of each main character's profile contains their basic info and a brand-new ID card for each character, containing their basic stats! Let's check out the second page with Hiro: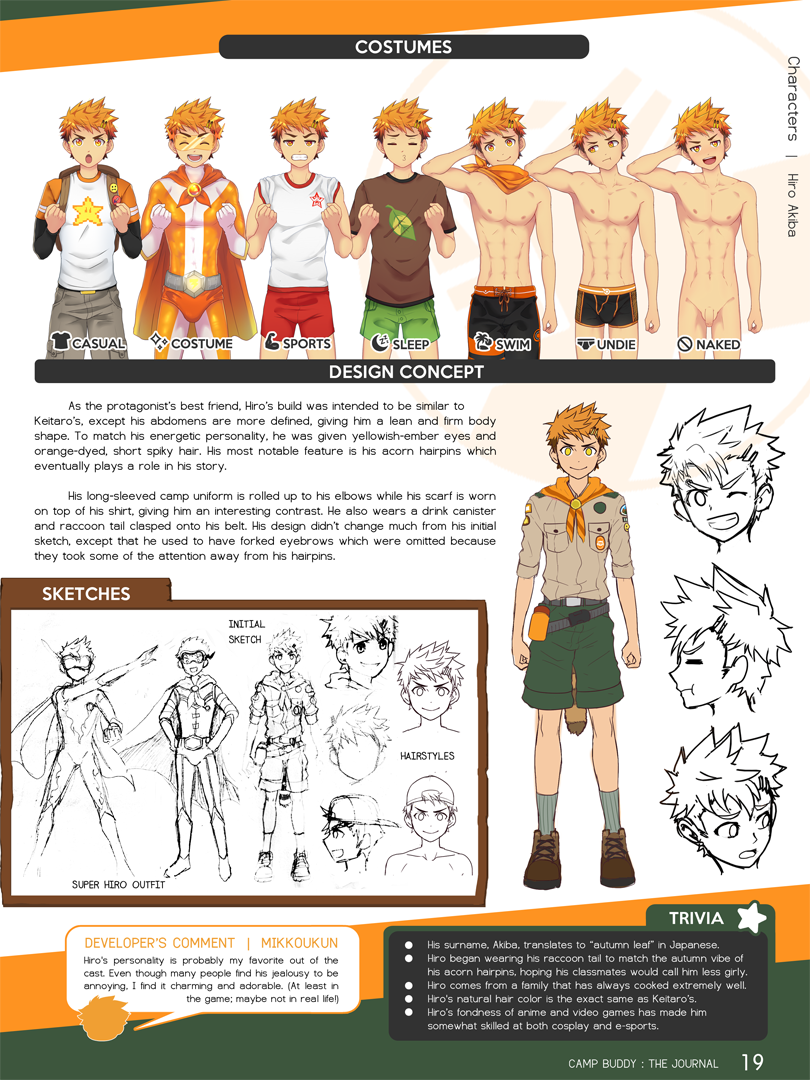 The second page has a full explanation of the character design concept from the creators themselves, as well as the original design, trivia and comments too! We're sure everyone will love all of this new info and the many, never before seen sketches!
Journal Entry 3 – Story Event Illustrations:
The story is the backbone of Camp Buddy, and we've taken extra care to compile all of the art from each route into its own section, and filled them with trivia, development insights, initial sketches and more! Reading through each character's story section will give you even more info about the characters than before, all in a fun, easy to read format!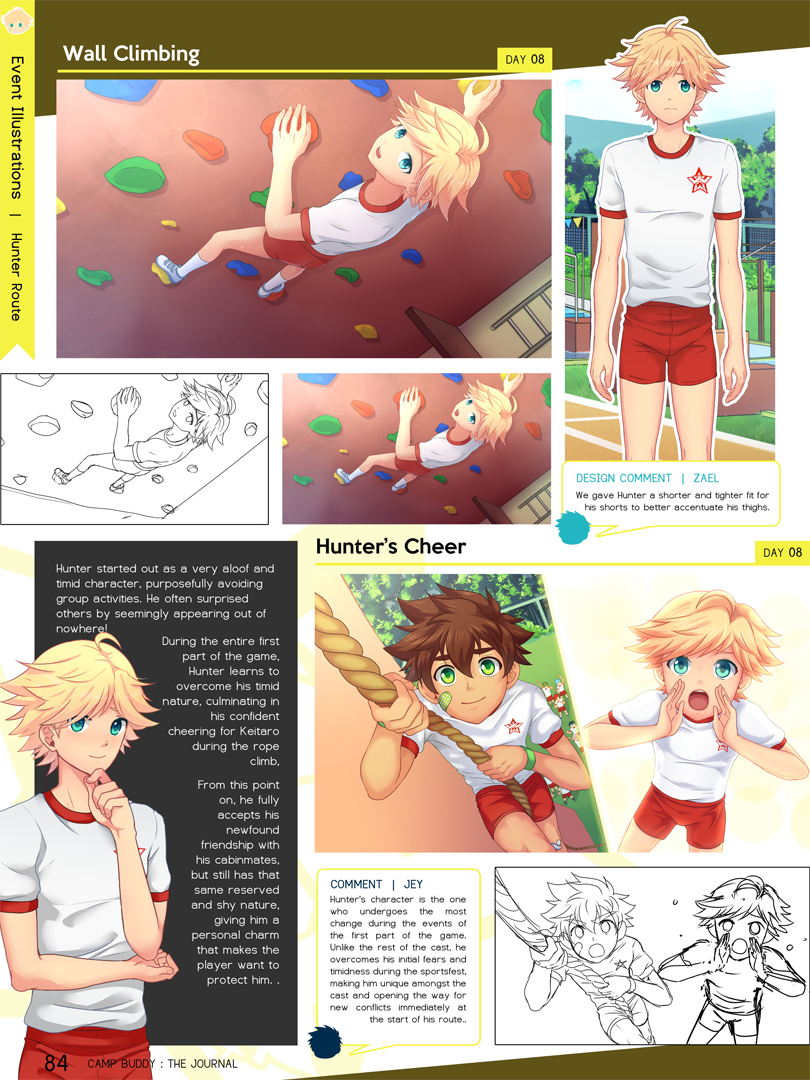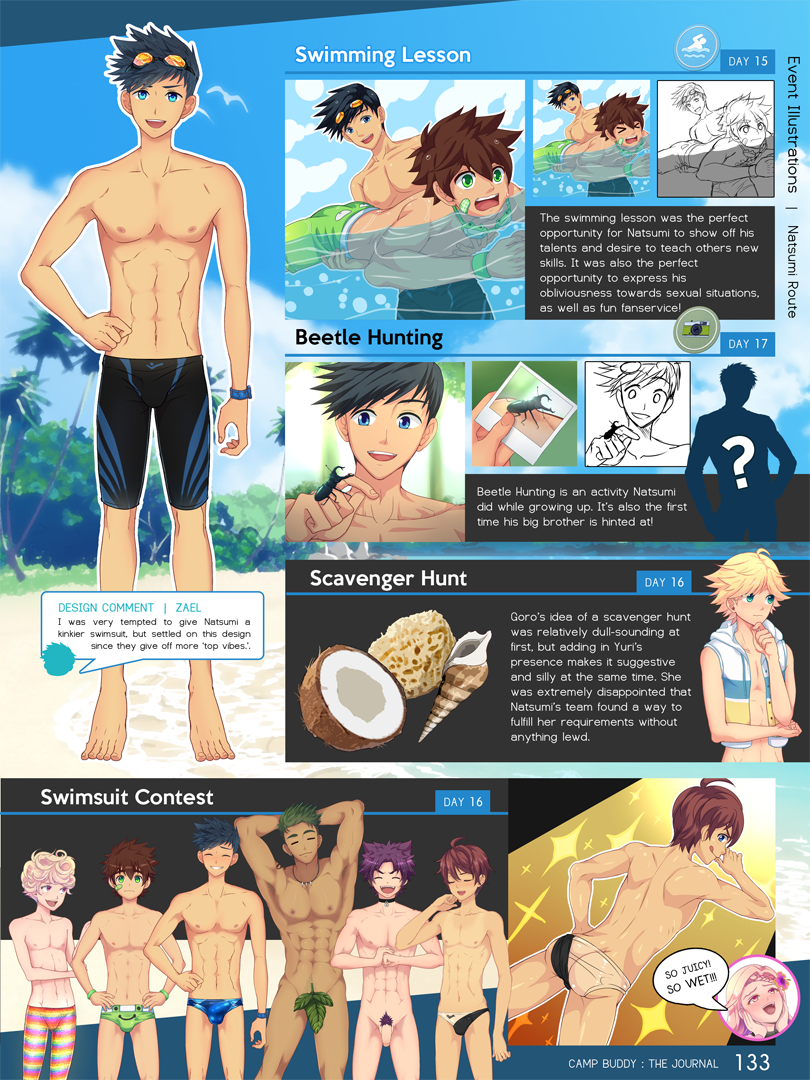 This section is chock full of information, and you won't want to miss any of it! But that's not all for the story – everyone knows that a crucial component of Camp Buddy is the sexual scenes, and we've gone the extra step to ensure that all of the character's sexual details have been spilled! Each of the main characters get their own dedicated 'sexual info' page, including info such as position preferences, fetishes, foreplay minigame interactions, and even penis sizes! The side characters will get some of their own sexual information for the first time too, so you can look forward to that as well!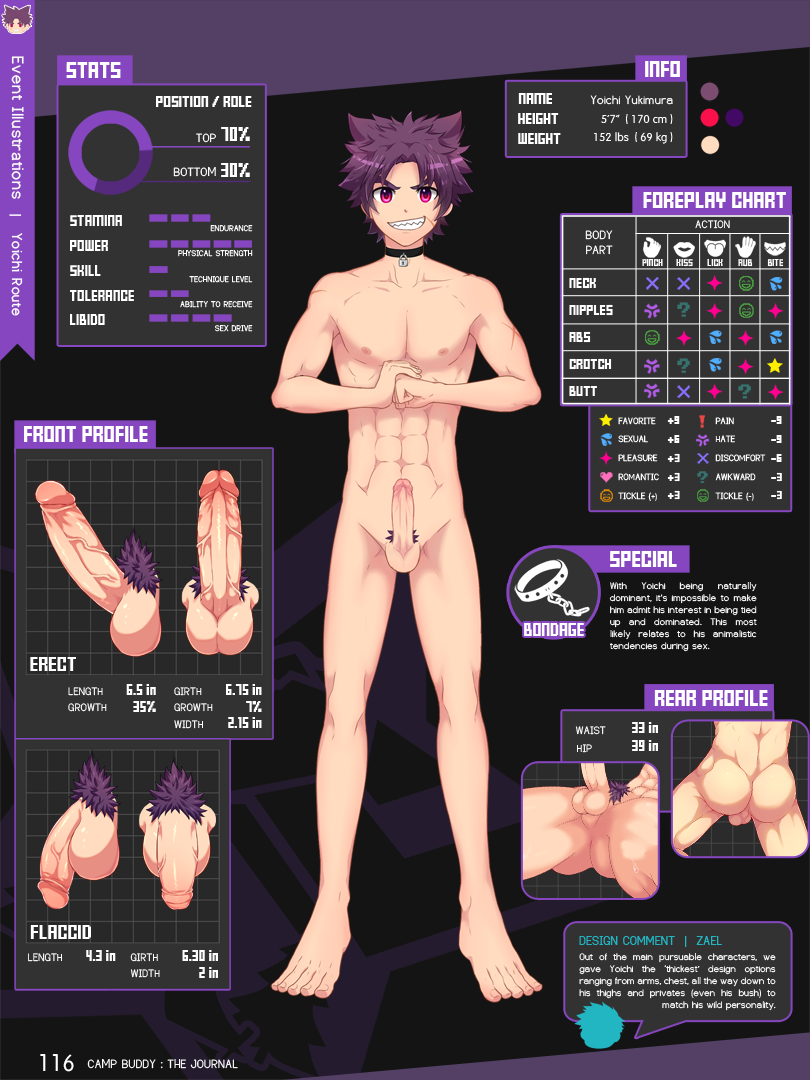 Beyond the sexual info, we've also made each of the sex scenes into their own dedicated sections with developer insights, sketches and comments too! It's a mirror of the story section, just quite a bit naughtier for your viewing pleasure!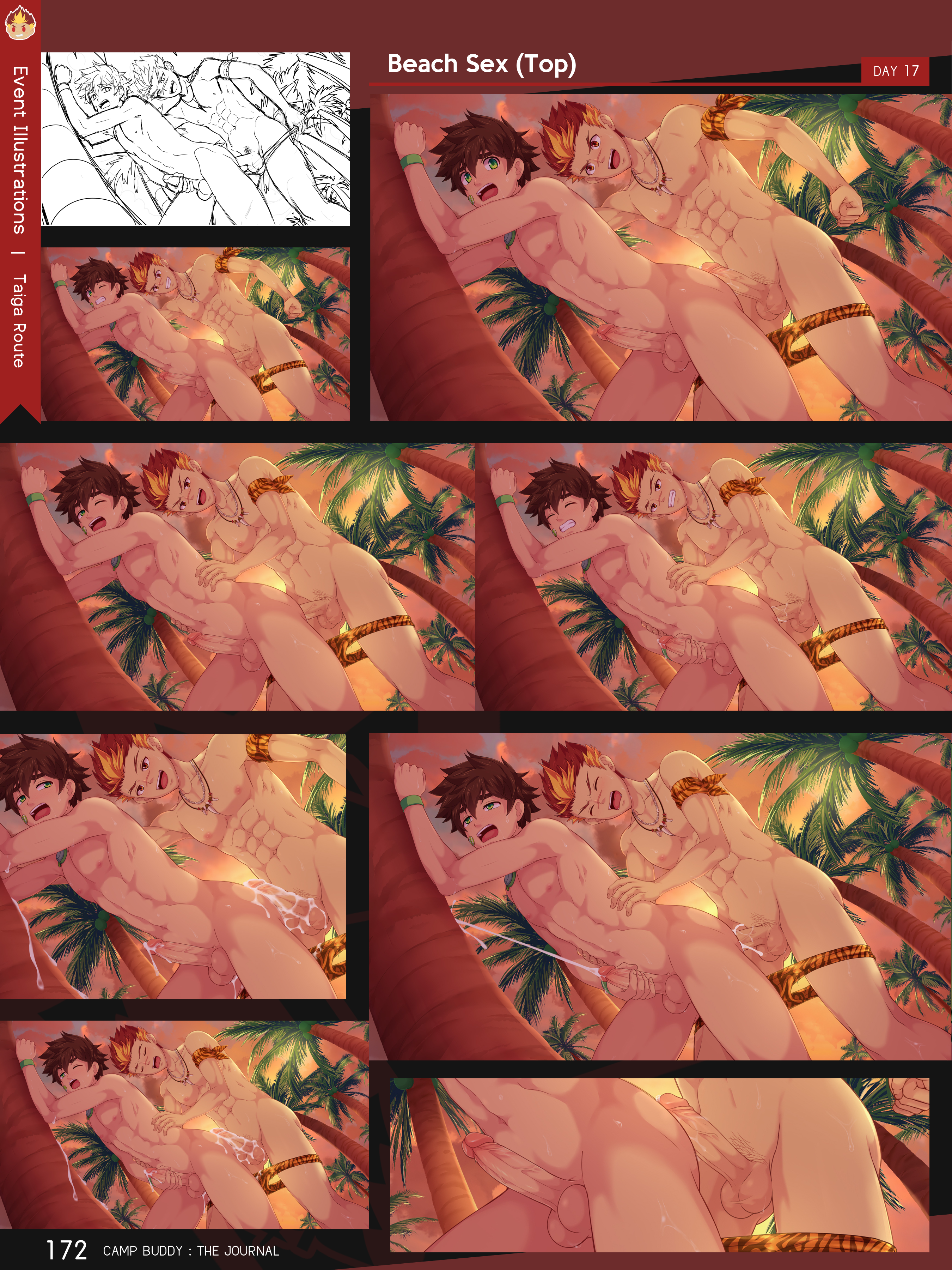 Lastly, we've also compiled all of the backgrounds and their work in progress sketches, along with some info about the world of Camp Buddy, including a map of the campgrounds! If you've ever been confused about where anything at Camp was, we'll be clearing it up with this!
Journal Entry 4 – Development & Multimedia
There are tons of assets used in Camp Buddy, from various interfaces, to sound design and voice acting. We decided to dedicate a full section to this, and are going to be showcasing interviews with the development team, as well as sketches and information about how the interfaces were designed, such as the foreplay minigame below!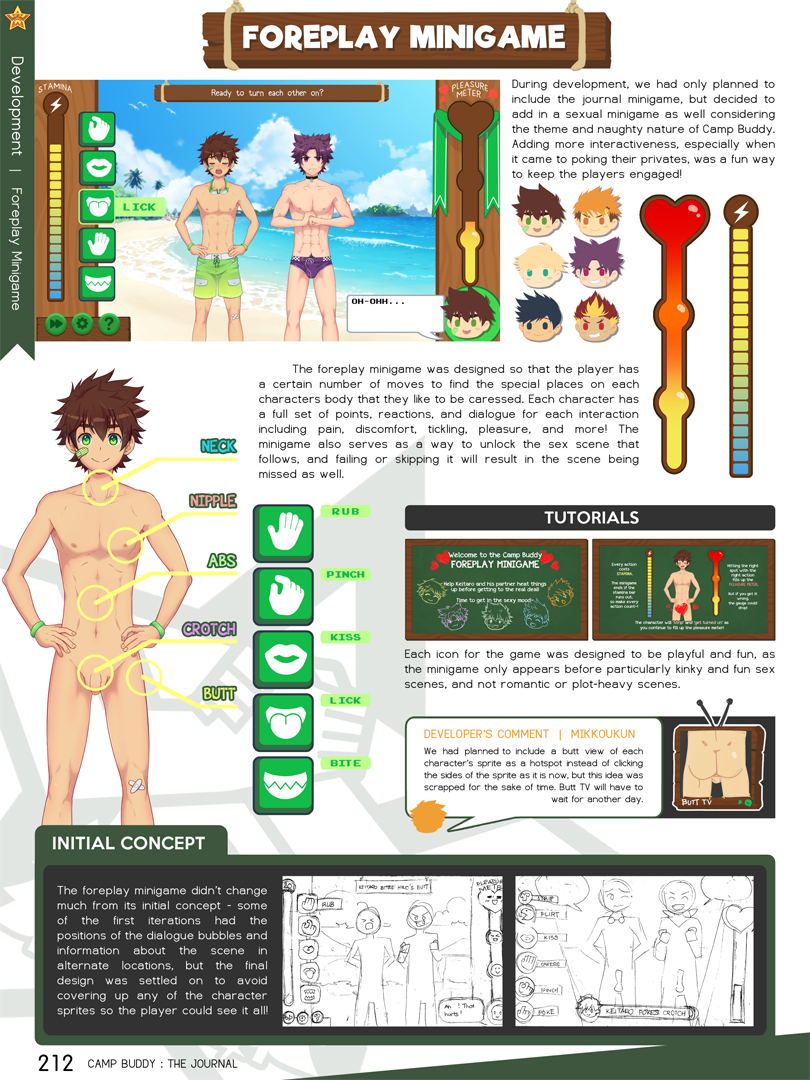 Journal Entry 5 – Fanworks
Camp Buddy wouldn't be where it is without the fanbase, and we wanted to give a dedicated section for them and all the awesome artwork that has been created so far! We featured plenty of artists that have made an impact on the community, and even invited special guest artists to get their own interpretation of the Camp Buddy characters! You can look forward to seeing all of these in the book, as we'll keep them a secret for right now~
Game Walkthrough
The final section of the artbook is a much-requested feature by many fans – a full game walkthrough! You'll find every choice scene in every route laid out in a friendly, easy to understand method here, so go and get that perfect ending, buddies!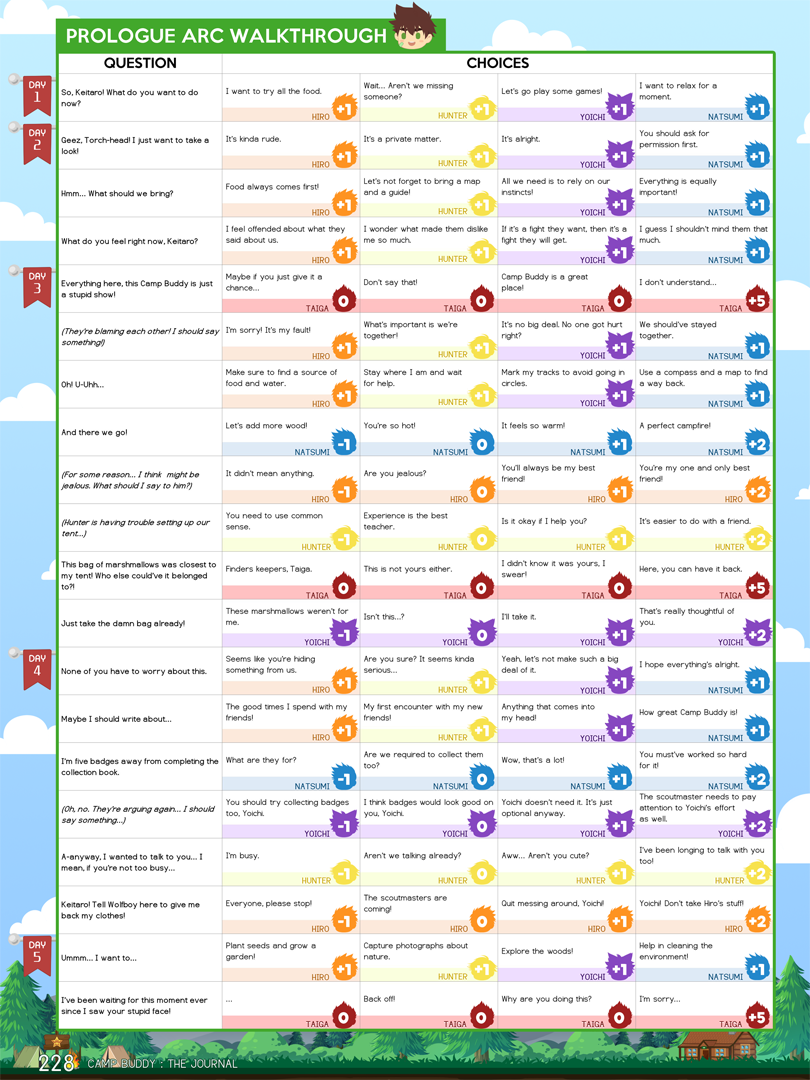 Digital Release Date & Pricing
That's it for our artbook preview, buddies! We hope everyone has a clear idea of what's included now, and that everyone is as excited as we are! We have good news as well – after working hard, the artbook is nearly ready and will be digitally released on Friday, April 3rd, at 7:00 PM (US EST) for the price of $24.99 USD! We will also be releasing a bundle of any version of the game with a copy of the artbook for $69.99 USD at the same time for one week, so if you haven't picked up Camp Buddy yet, now is the perfect time! All Patrons who were eligible for both a digital and physical copy will be sent a download link at this time too!
That's all for now, buddies, but please stay tuned for the release! We'll be eager to let everyone get their hands on the artbook soon, and thank you again for all of your patience and support!
P.S: We are currently unable to produce physical versions due to certain circumstances. We'll update everyone as soon as physical merchandise becomes available. Thank you for understanding.