Happy Holidays, buddies! We're back with another Major Update about our plans for 2020 and what you can expect from BLits over the next few months! Now that Taiga Route DLC has been released, Camp Buddy is nearly complete, and we're looking towards quite a few new goals that we will describe below in detail! The post below contains important information for all fans of Camp Buddy, so we encourage everyone to read this post fully so they don't miss anything!
Camp Buddy Patch 2.2
Although Taiga's route has been released, we're still working hard to release one final update for Camp Buddy – Patch 2.2. This Patch will contain various bug fixes and features, which we'll describe below!
Audio Normalization: We've had multiple requests for the Audio in Camp Buddy to be more normalized, and are working hard to ensure that all routes have their sound issues resolved, from missing cues to varying volumes of Audio. We will actually be opening applications for an audio engineer in the near future, so please stay tuned for that, buddies!
Facial Cue & Sprite Voice Cue Tune-Up: Throughout the game, there are occasionally misplaced expressions or voice cues that do not fit the scene appropriately, and since those could hamper the play experience, we're working hard to squish those throughout all routes! When Patch 2.2 releases, the routes will all have been updated for this, to enhance everyone's play experience!
Additional Animations (Taiga Route): Like we mentioned as well before release, Taiga route animations would be completed in a Patch following the Taiga route, and our animation team is already hard at work making these for the Patch 2.2 release! Stay tuned for more previews of these animations!
Beyond these major fixes, other minor issues in the game, such as grammar, gallery bugs, and more will be resolved! By the time this patch releases, Camp Buddy will be fully polished and fresh, for new and old fans to enjoy alike!
Camp Buddy Artbook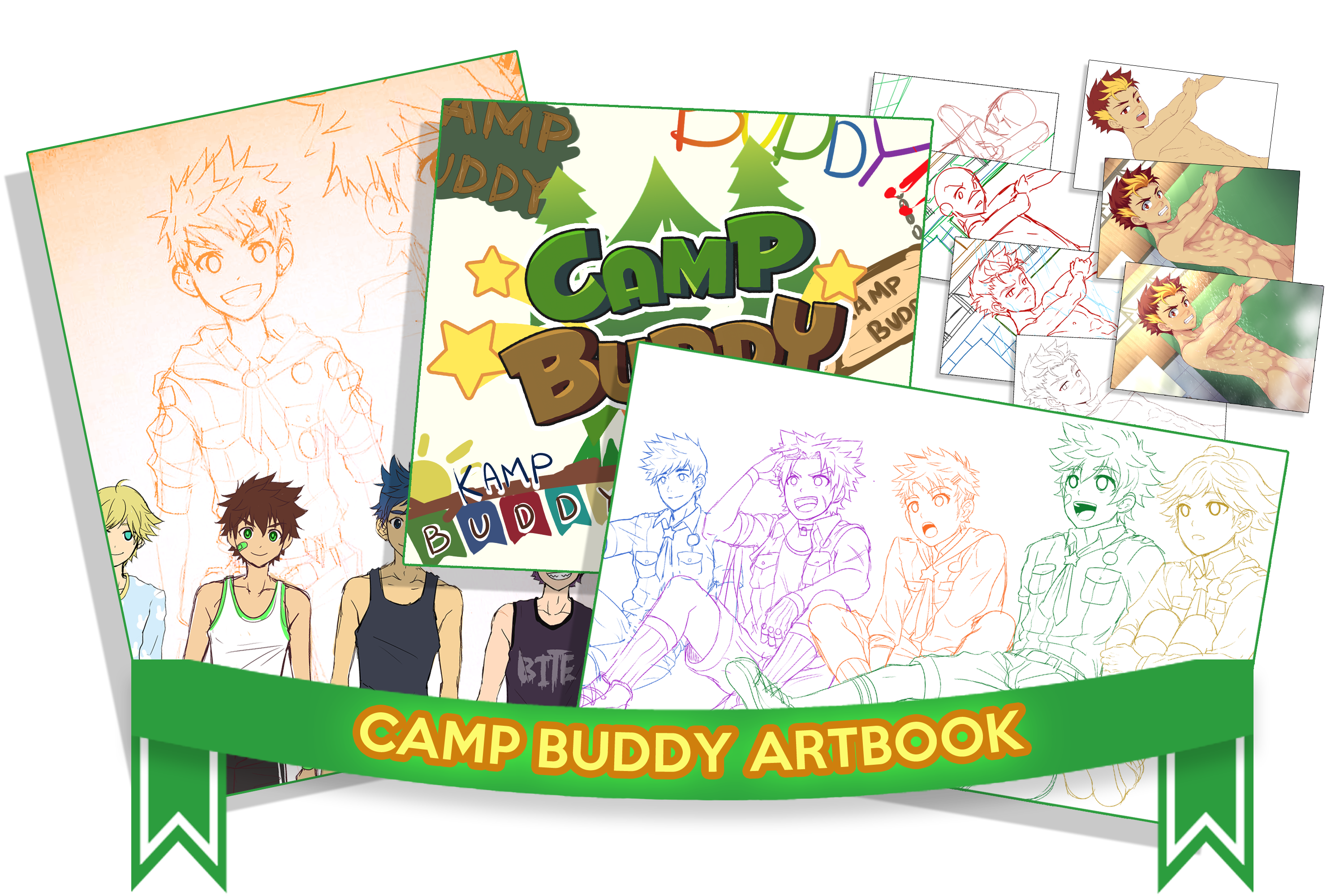 Beyond Camp Buddy, we're actually beginning work on an original Patreon tier reward, the Camp Buddy Artbook! This product will have never-before seen concept art, as well as various design stage level insights into the Camp Buddy development process! There will even be a section that features fanart made by you, our awesome fans!
Once the artbook is completed, we'll be distributing it out to all eligible Patrons, as well as printing physical copies for those who earned it through pledging as well! (We're still working out logistics for shipping the rest of the physical merchandise, so please stay tuned for that) If you missed the original Patreon campaign, don't worry! The Artbook will be available as a digital release in our store! Stay tuned for more previews about it over the coming weeks!
Camp Buddy Expansion Routes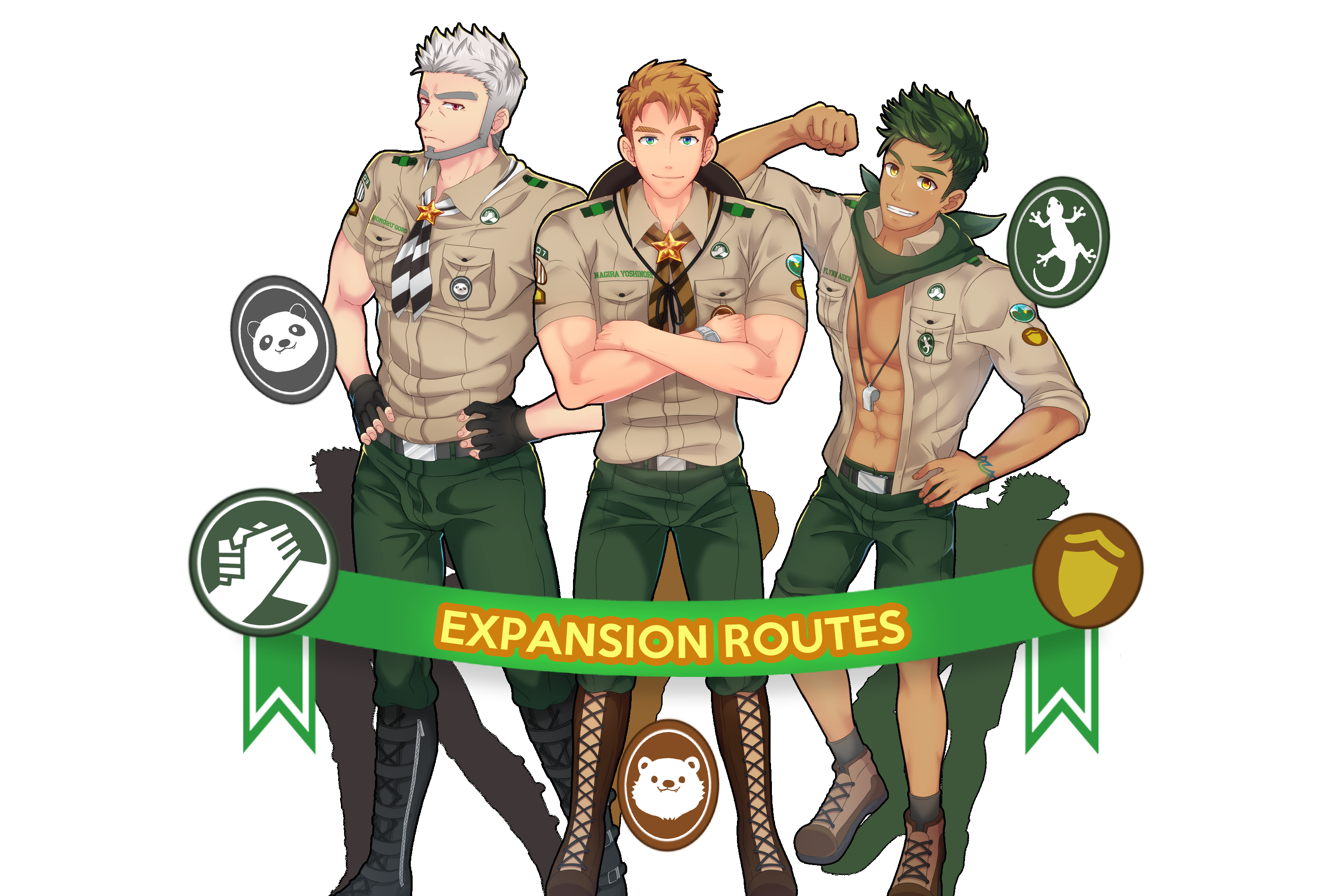 Another one of the original stretch goals of our Patreon Campaign was the Camp Buddy Expansion Routes! Unlike in Camp Buddy where we follow Keitaro Nagame's adventures, in this game, you will take control of Scoutmaster Yoshinori Nagira, and pursue a relationship with the strict and stern President of the Camp, Goro Nomoru, or the carefree and talented helper, Aiden Flynn! We know everyone is very excited to receive more information about this new game, and we will begin storyboarding as soon as Patch 2.2 and the Artbook have been released!
Holiday Sale
As we announced a few days ago, we've placed new Patreon Sets for sale at our website, and they are currently on sale for 33% off until December 30! Please make sure you grab them while you can!
In addition to the Patreon Sets, we have decided to lower the price of the Android Version of Camp Buddy to $45 USD permanently, due to the removal of the animations featured in the game. But that's not all!
We're also thrilled to announce that starting now (December 25) until Monday (December 30) all versions of Camp Buddy will be on sale, for the prices listed below!
PC Version: $39.99
Mac Version: $39.99
Android Version: $39.99
Make sure and grab your copy while you can, buddies, and Happy Holidays!
Final Words
This concludes our Holiday Update for now, buddies! 2019 was a busy year for Camp Buddy and BLits, and we expect that 2020 will be even better! We couldn't have gotten where we are without you all, and we want to thank everyone for their continued love and support! We wish everyone a wonderful holiday season, and want to drop one more present for you all before we conclude:
After months of waiting, we're finally posting the Full Version of Greatest Memories (by HMNK ft. Techniken) to YouTube for everyone to enjoy! We hope you all enjoy it, and continue to form your own greatest memories in the new year!
If you have any comments or concerns, please let us know below, or feel free to send us an email to [email protected]!
Happy Holidays! See you in the new year, Buddies!
~BLits Team