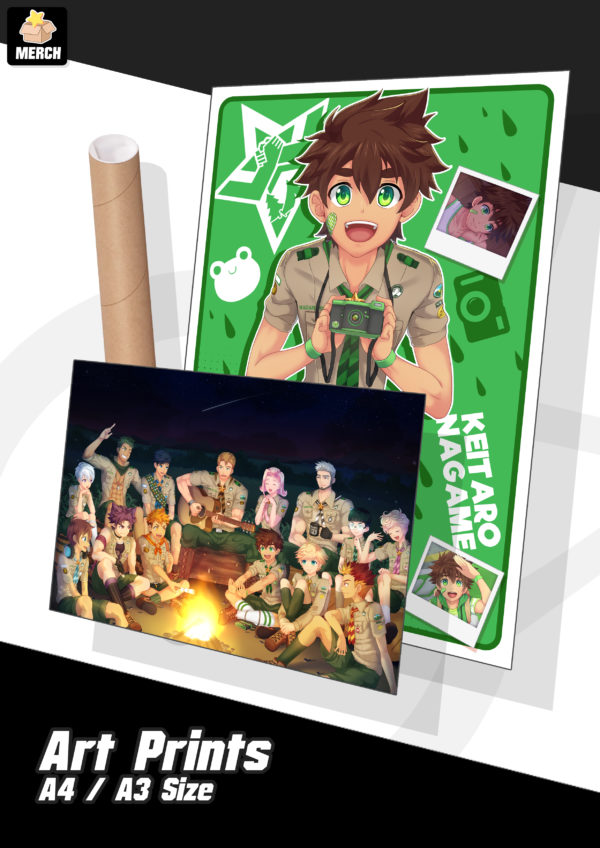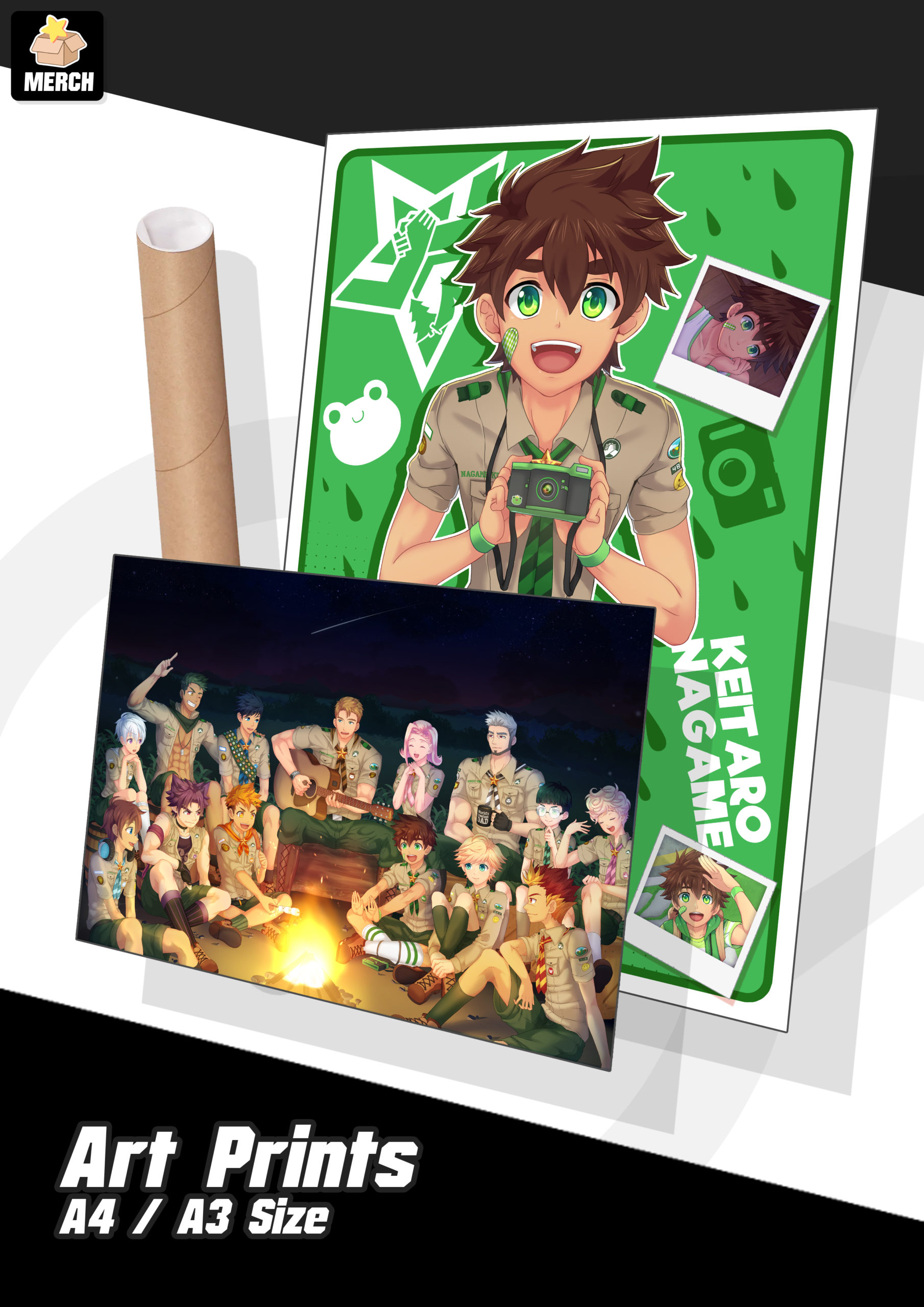 Order a physical copy of a Camp Buddy Art Print. You can select your print from the dropdown below, as well as your choice of size and print type.
Please note that this is a physical product and will be shipped to the shipping address you enter on our payment gateway.
For more information about the shipping, as well as additional general information, please see our product FAQ.
DISCLAIMER:

Due to the global pandemic, please expect at least a month to manufacture and ship to your address depending on the country.
High-Quality Giclee Art Print featuring BLits Characters featured in Camp Buddy and on Patreon. Please see above for available variants.
What are Giclée Art Prints?
Giclée is printing technique is as refined as it sounds, employing high-quality inks on fine art papers using a high-resolution large format inkjet printer, giving you the opportunity to enjoy artwork to the fullest. Giclée art prints also have a longer lifespan and higher resistance to fading and discoloration compared to common art prints thanks to the pigment-based archival ink used.
Size Options:
A4 - (210 x 297 mm / 8.3 x 11.7 inches)
A3 - (297 x 420 mm / 11.7 x 16.5 inches)
Please note that not all design patterns are available in both A3 and A4 sizes.
This product is MADE TO ORDER. Upon manufacturing, it will be shipped to the shipping address you enter on our payment gateway. Please see our infographic below or visit our FAQ for complete information:
Additional information
Size Options

A4 – (210 x 297 mm / 8.3 x 11.7 inches), A3 – (297 x 420 mm / 11.7 x 16.5 inches)

Paper Type

Lustre Photo Paper – This paper type has a balance of glossy and matte texture (semi-gloss finish). Being the default surface used by photo labs for decades, Lustre Photo prints have rich color saturation that gives a vibrant color finish and are resistant to fingerprints.

Paper Weight

240gsm

Print Side

One sided print

Print Technique

High-resolution large format inkjet printer with 12 color pigment based archival inks.

Packaging

Discreet packaging. Prints are rolled inside a sturdy and plain cardboard tube. The cardboard tube(s) may be packed in a cardboard box depending on the number of prints ordered.

Refund Policies

Refunds are only available before the order has been sent to the manufacturer. This means your request will need to be submitted before the incoming 1st or 15th of the month, depending on when you placed your pre-order.

Example- If you placed your order on the 3rd, you will need to submit your refund request before the 15th of the same month in order to be eligible for a refund.

Return Policy

Returns are accepted only in the case of an unopened product. Once the product has been opened, returns will not be accepted unless in the case of printing/manufacturing error. The customer shall pay the shipping cost of returning the product to our warehouse.
Handling & Care Tips
Display and Storage
To avoid discoloration and/or fading, do not expose the print in direct sunlight.
Display or store your print in an environment controlled for both humidity and temperature. Ideal environmental conditions are 70 °F (21 °C) and 55% humidity. High humidity can cause yellowing. High moisture or water drop on a print will be permanently visible when dry.
Keep all giclée prints away from solvent-based materials such as oil paints and linseed oil, or in a setting that might have chemical outgassing (from freshly painted walls, new rugs, and other fumes) which may cause fading or discoloration.
Archival (acid-free) clear plastic sleeves are recommended. DO NOT USE the cardboard box or the cardboard tubes for long-time storage of your print, they are NOT archival. Tubes and hard envelopes can be reused and/or recycled.
When framing, use only archival (acid-free) supplies. Wood frames treated with chemicals or paints can omit harmful gases that can attack the ink and paper.
Handling
Handle the print only by the edges, preferably with clean hands. The oils from your hands can affect the PH of the paper and reduce the archival qualities. Fingerprints on dark areas will show up as sheen.
Shipping & Pricing
Shipping Price Estimates:
Starts at $12.00 USD
Please note that Camp Buddy Art Prints are manufactured separately from Camp Buddy Body Pillows and as such follow different shipping guidelines. Please check our FAQ's for more information.
Production takes 1-6 Business Days
If your country is currently on lockdown due to the global pandemic, you may experience some delays with the shipping process.